20th Squadron-49th Squadron- 96th Squadron-429th Squadron
The Second's 2003 Reunion
Has Ended at the
Holiday Inn
Cincinnati Airport Conference Center
1717 Airport Exchange Blvd
Erlanger, Kentucky 41018
OCTOBER 9TH THROUGH 12TH 2003
Arrangements made by Richard "Dick" Radtke,
President of the Association
All pictures courtesy Dave Carlock Web Master
WE HAD A GOOD TURNOUT AND EVERYONE
HAD A WONDERFUL TIME!!!!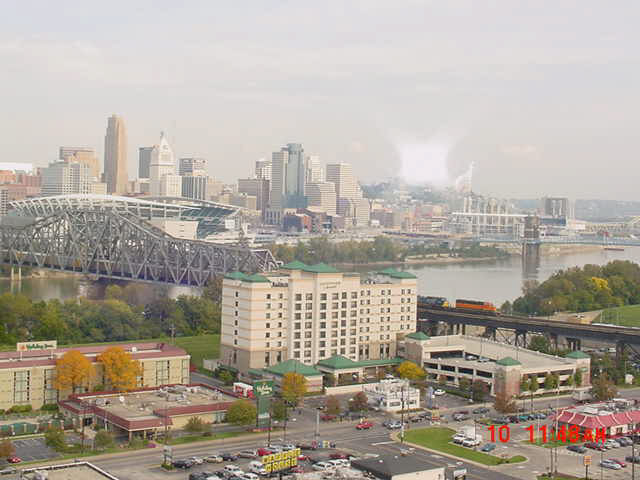 THE SCENE ABOVE IS LOOKING AT CINCINNATI ACROSS THE OHIO
RIVER FROM COVINGTON, KENTUCKY.
(ON THE OHIO SIDE YOU CAN SEE THE FOOTBALL AND BASEBALL
STADIUMS WHICH HAVE BEEN BUILT BY THE CITY OF CINCINNATI)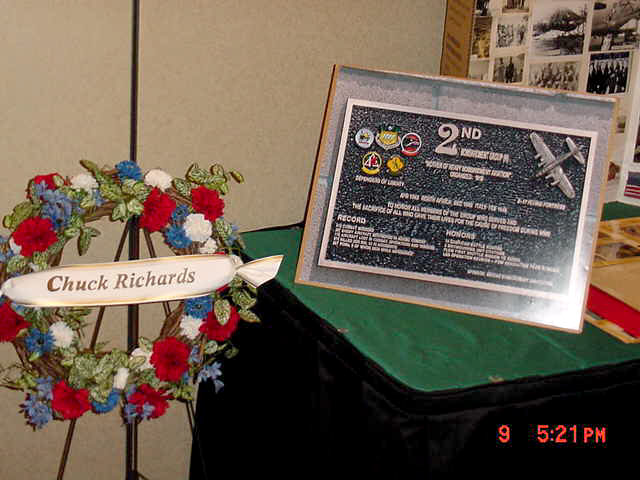 In memory of Charles W. Richards, Archivist for the
Second Bombardment Group while "Defenders of Liberty"
was being written and author of "The Second Was First"
This display was set up for display during the Reunion.
(On the right a copy of Second Bombardment plaque on display
at March Air Force Base California)
Among those attending !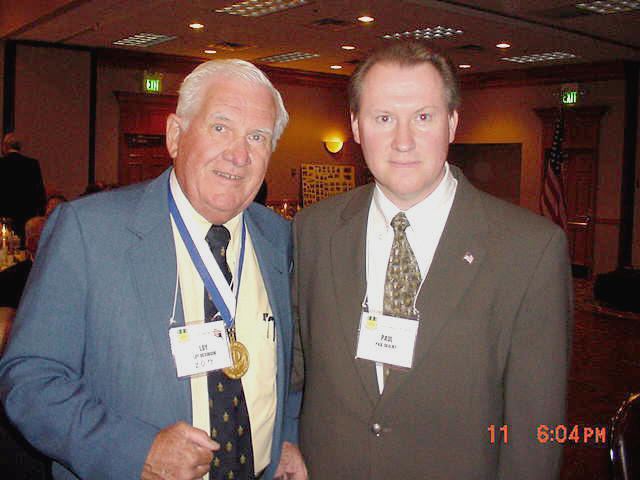 Left: Loy A. Dickinson, (President Elect)
On the Right: Paul Skalny, (Historian Elect)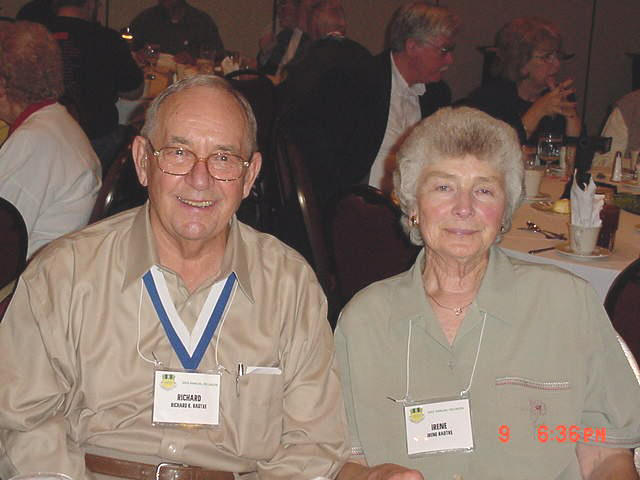 OUR PRESIDENT AND FIRST LADY: RICHARD RADTKE AND IRENE RADTKE.
THANKS "DICK" WE APPRECIATE ALL YOU DID!!!!!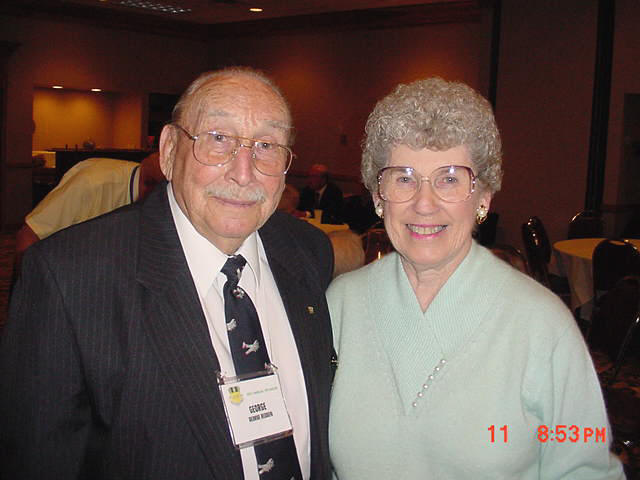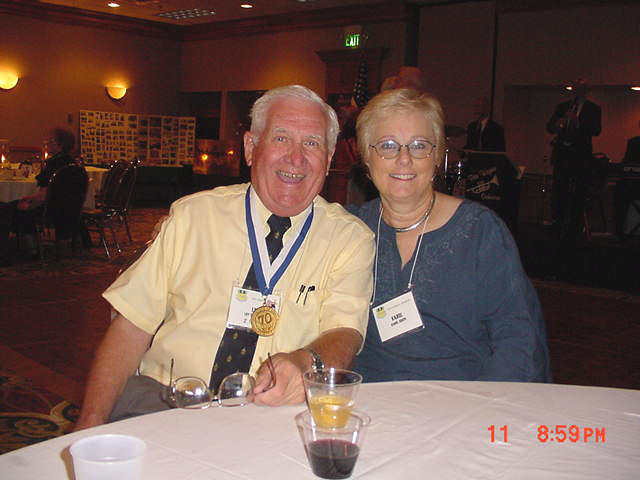 George Redden and wife Dolly Loy Dickinson and Karol Shupe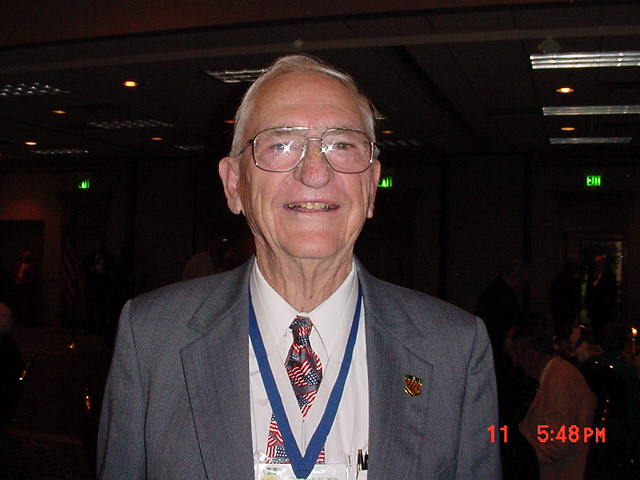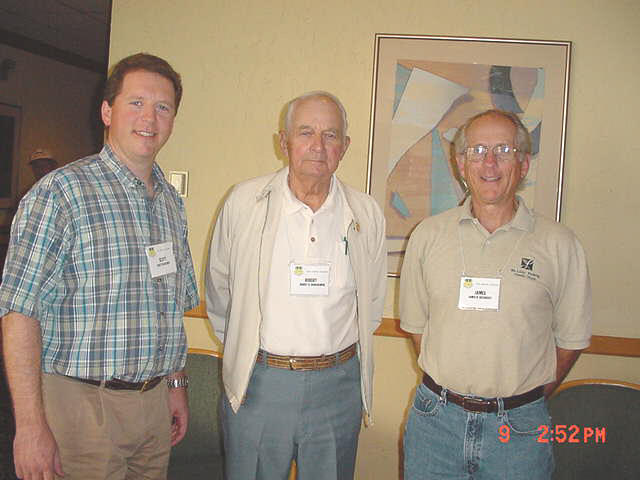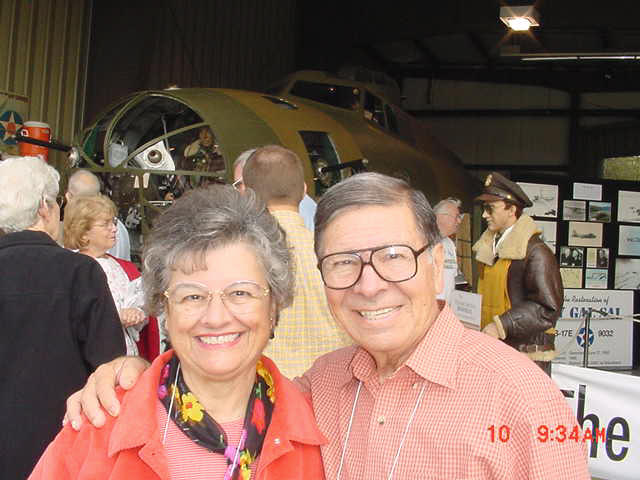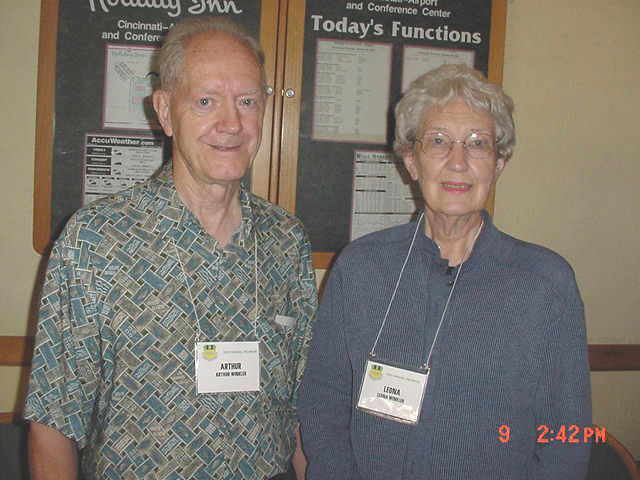 The happiest Couple Arthur Winkler and Leona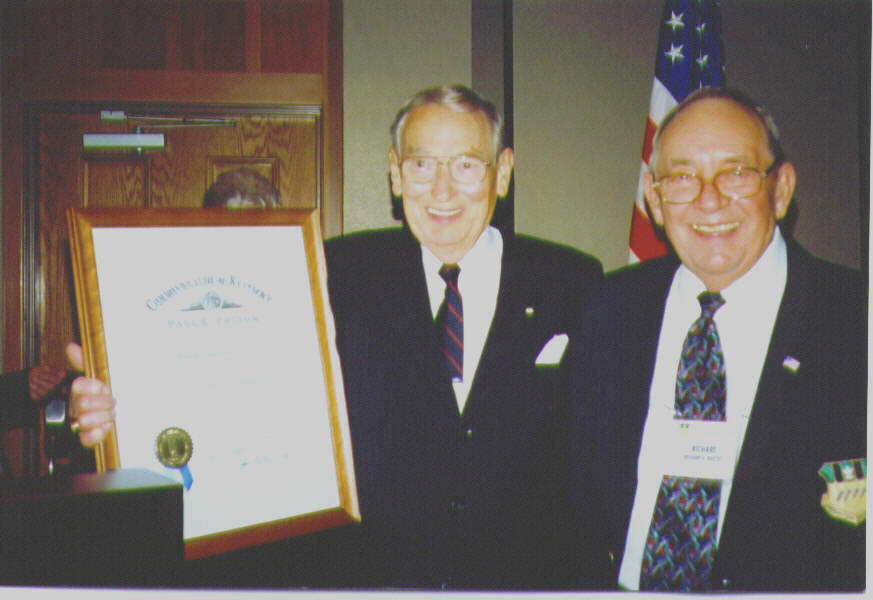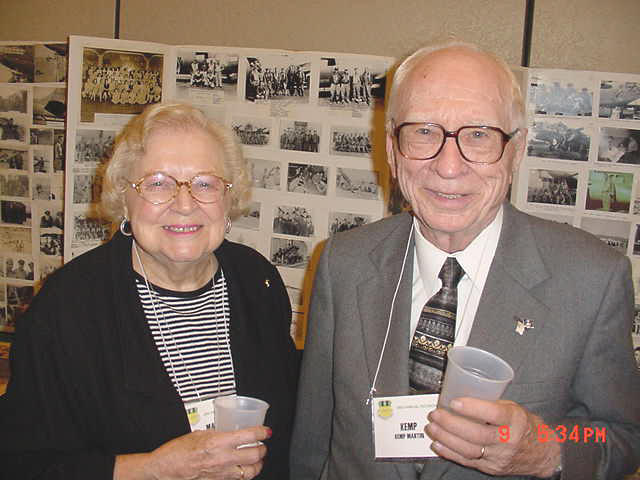 Dave Carlock and President Richard Radtke Mary and Kemp Martin (former President)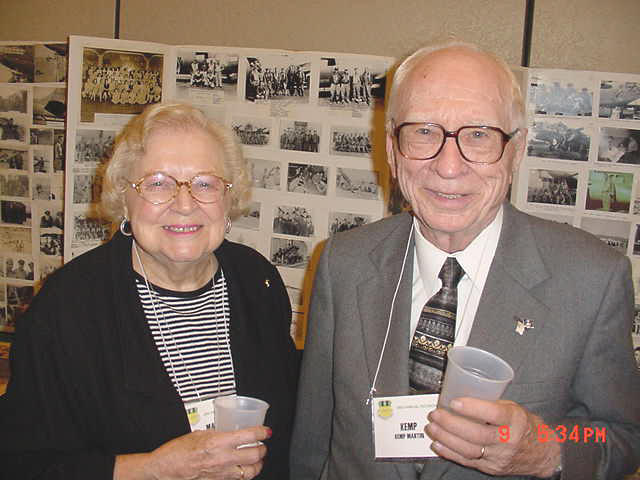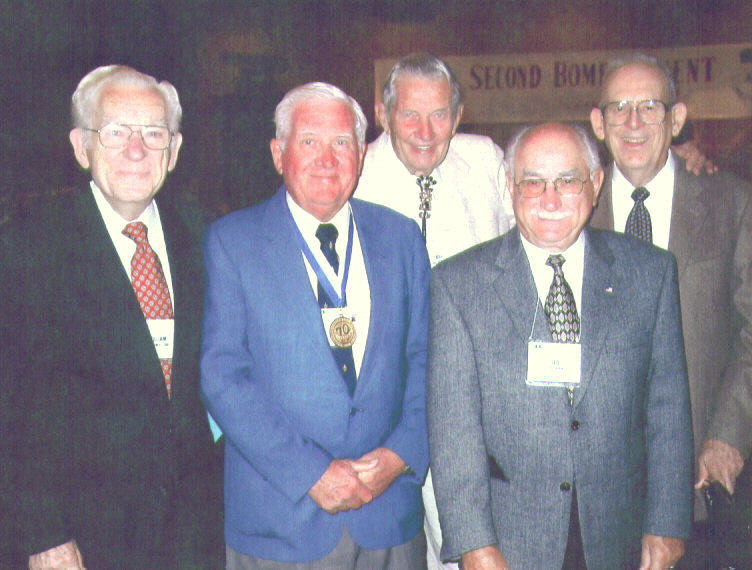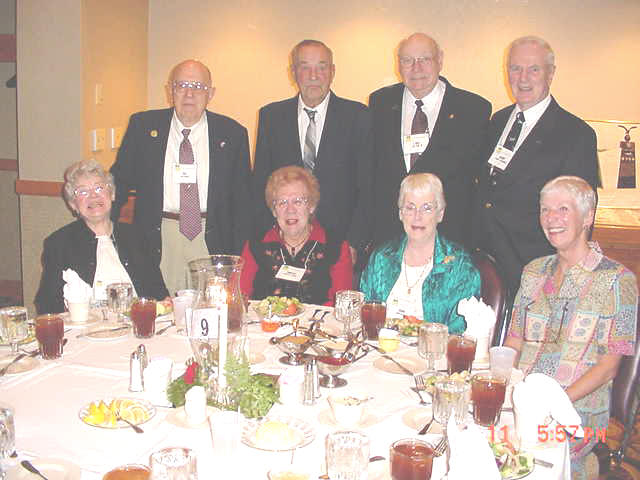 Bill Tune, Loy Dickinson, Leo Zupan standing: Bill Falder, Hank Schieble, Ray Specker,
All Crew members on Mission 263. Albert Grossman, Seated: Betty Falder, Dottie Schieble
Barbara Specker, Mary Schoeniger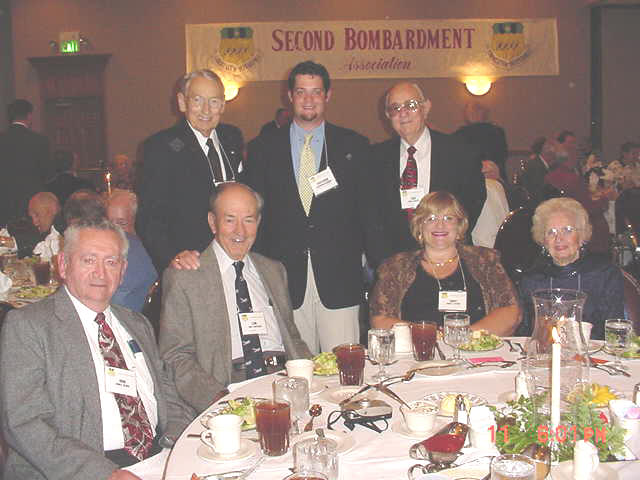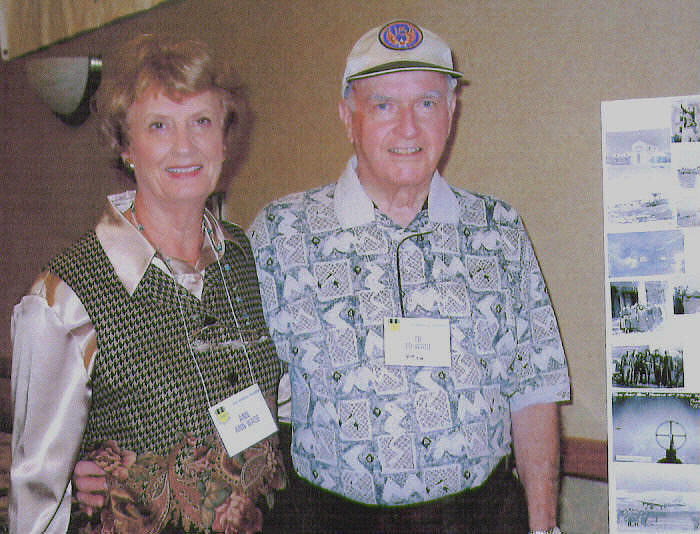 left to right seated John Sisson (Vice President Ann Wade and Ed Wade standing beside the
Elect), John Nastoupil, Vick Tayloe, Reba Killian, Pictures of his crew and mission No. 379 to
standing, Dave Carlock, Kristopher Vienna Oil Refinery March 16, 1945. Ostrauder, Jake Killian. .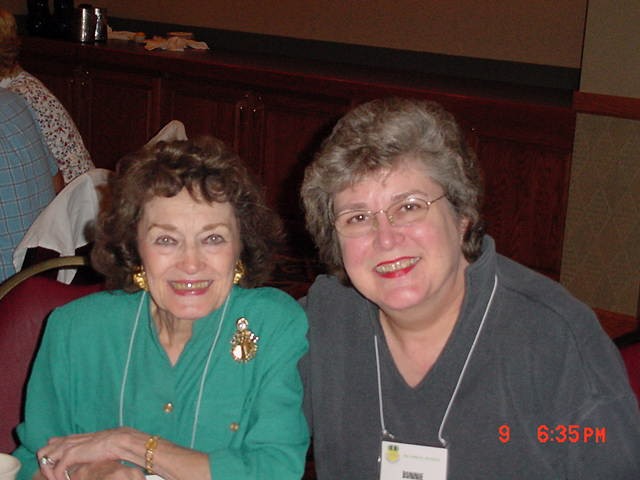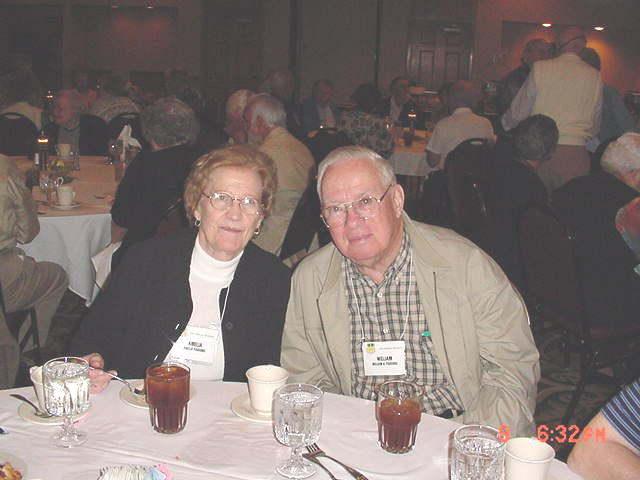 Loraine Crane and Bonnie Hellums Amelia and William A. Parsons
( Bill is Group Treasurer)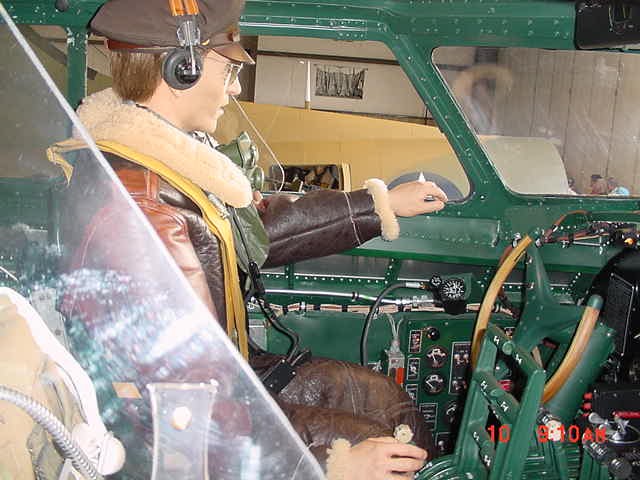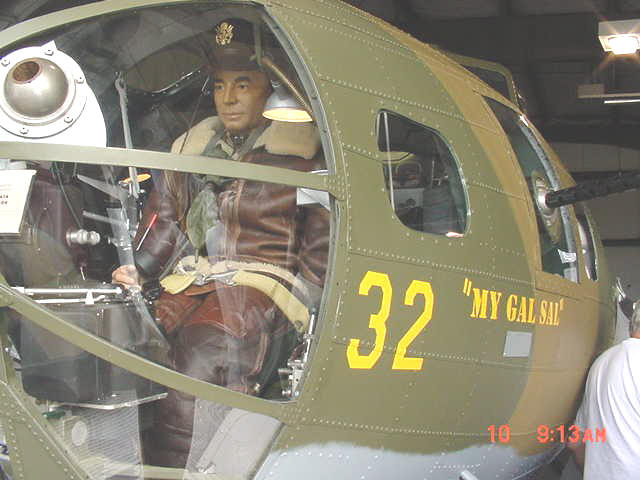 "My Gal Sal" was a B-17G which was lost in a crash landing in Iceland during the war it was
returned to the United States and is being restored. This was part of a Tour made by the Reunion
in Cincinnati.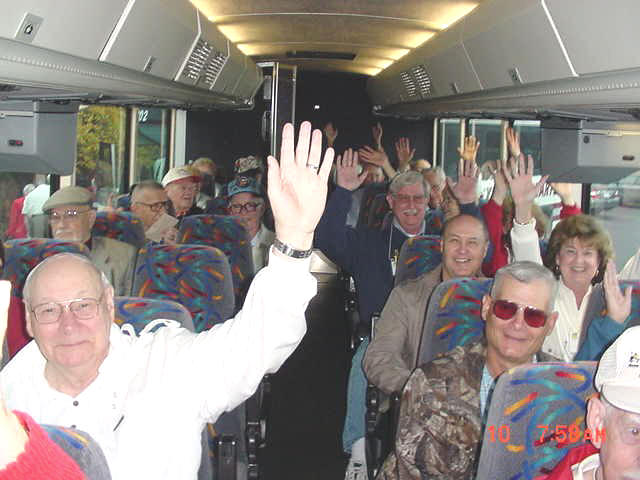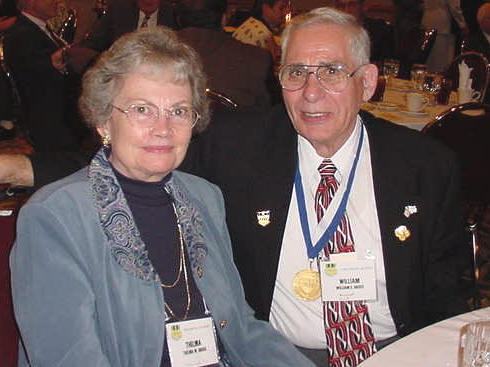 Bus Trip back from the Tour and visit to My Gal Sal Thelma and William E. Gross
Hot Kentucky Brown for lunch at "Chez Nora".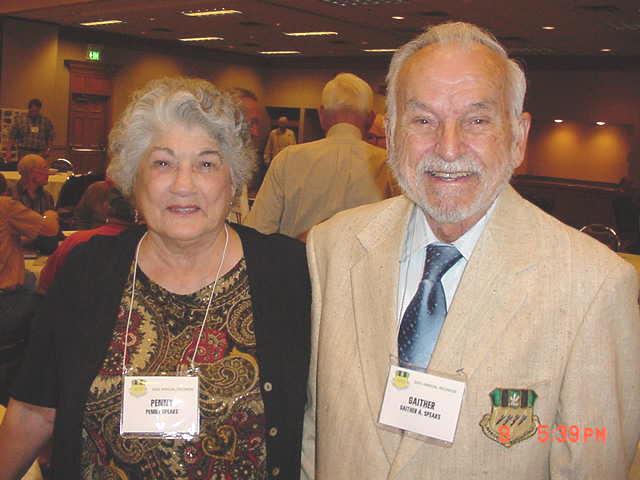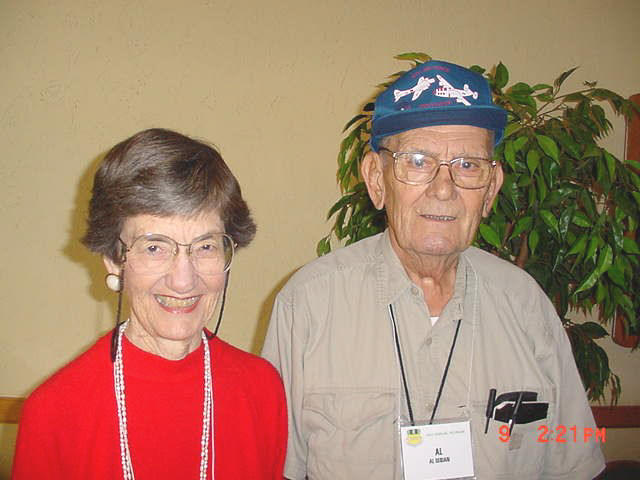 Penny and Gaither Speaks Kay and Al Sebian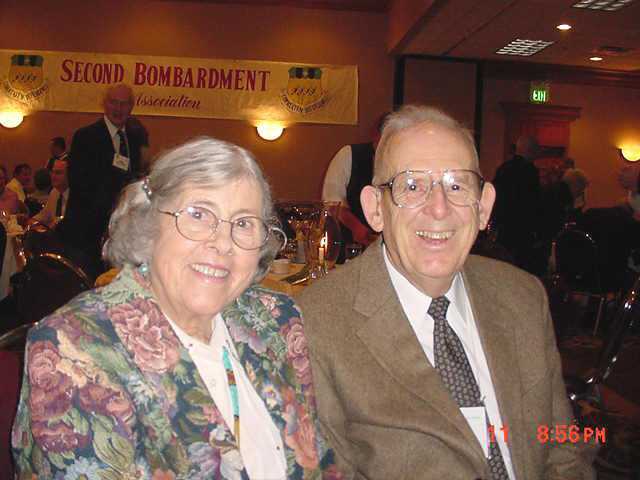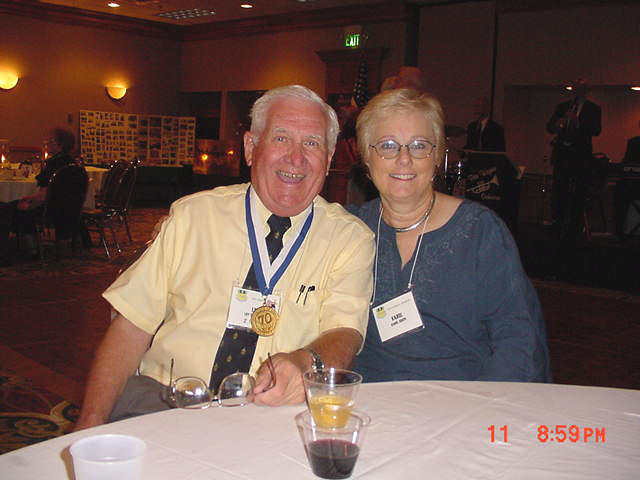 Ed and Eleanor Smith Loy Dickinson and Karol Shupe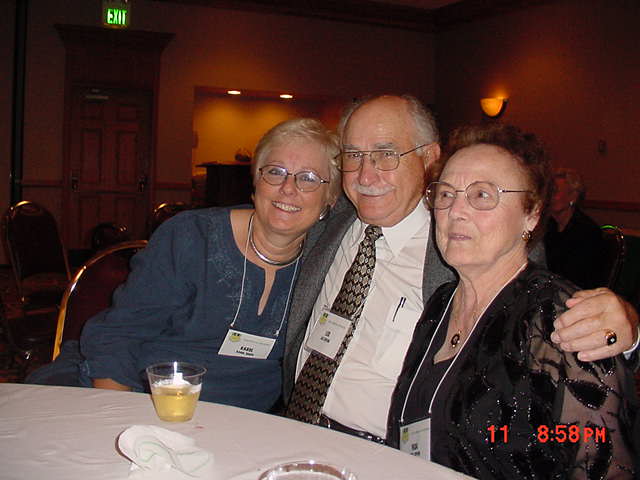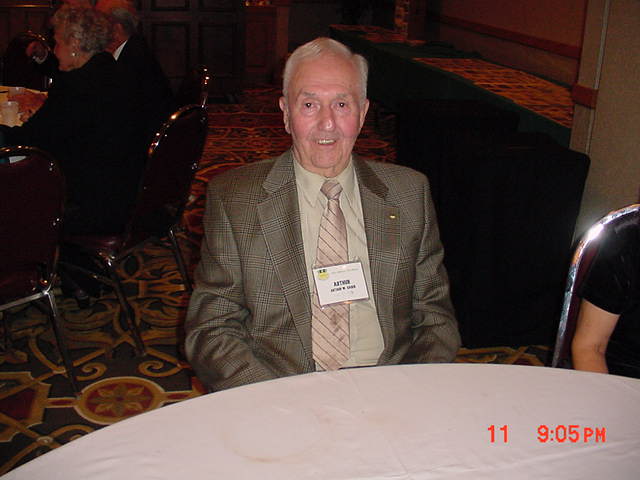 Karol Shupe, Leo Zupan, Veda Zupan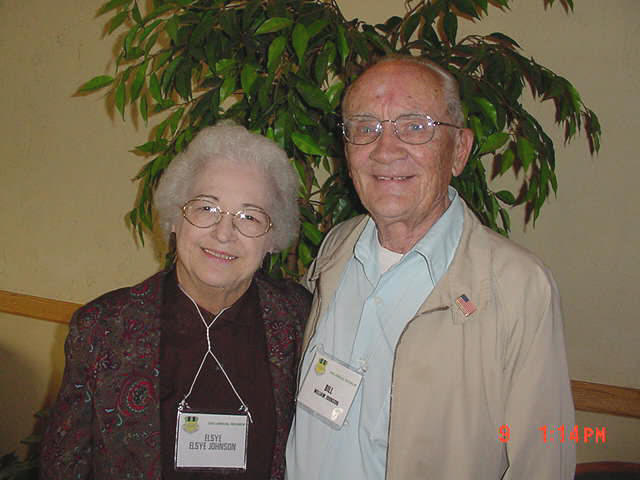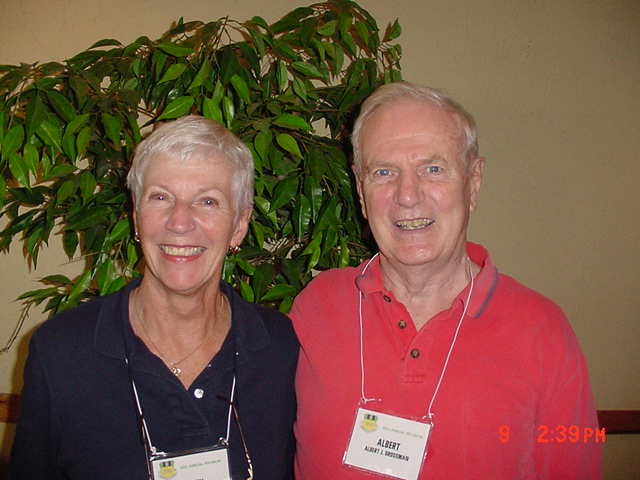 Elyse and Bill Johnson Mary Schoeniger and Al Grossman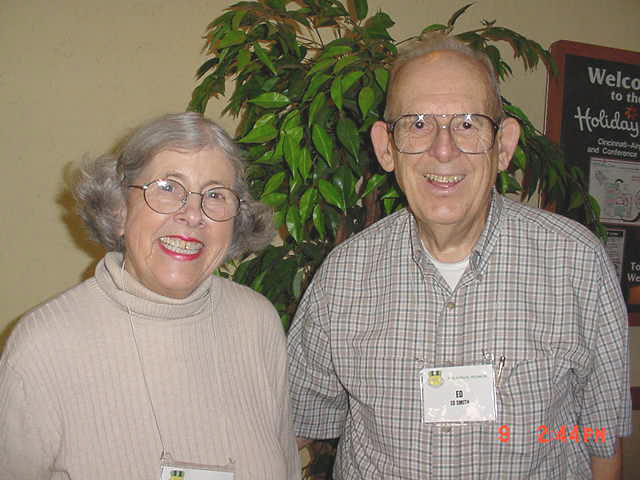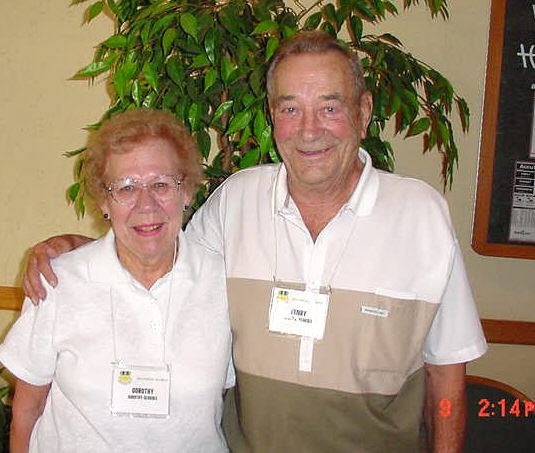 Mr. Mrs. Ed Smith on Arrival at Reunion Dottie and Hank Schieble on Arrival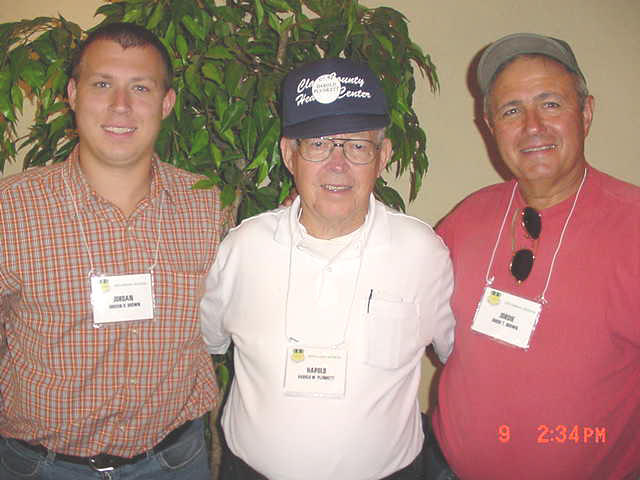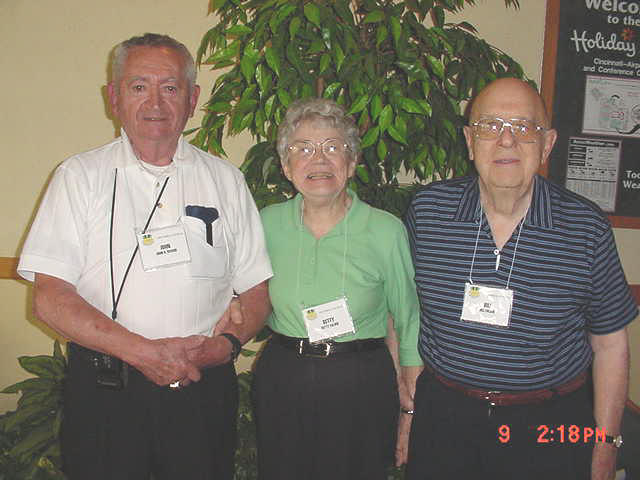 Skalny Family on Arrival John Sisson, Betty Falder and Bill Falder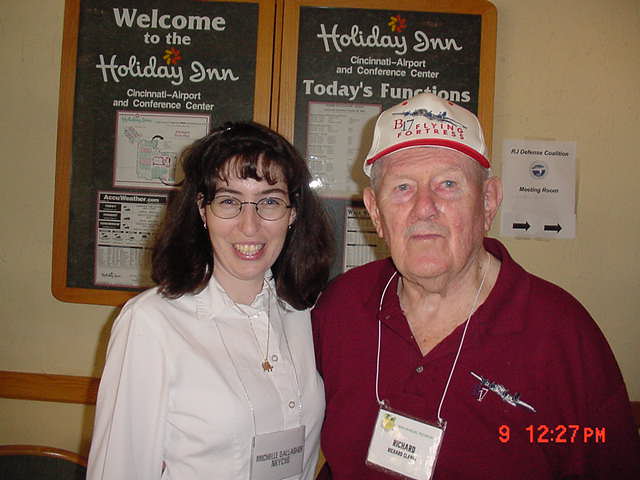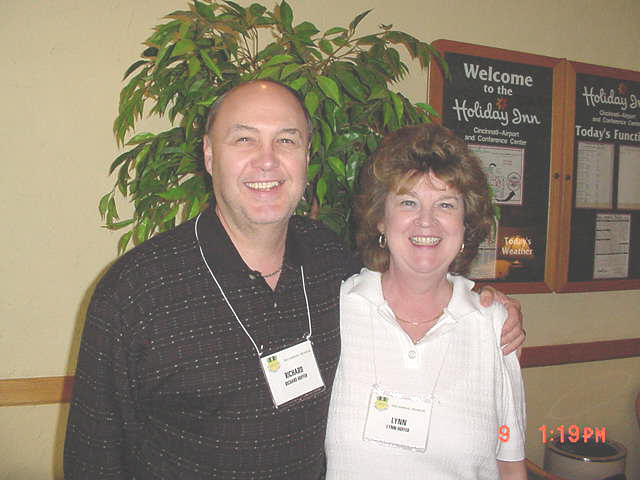 Richard Clark and Clerk on Check-in-desk Richard and Lynn Huffer Guests of Jean Moyer
Got to watch these old guys!!!!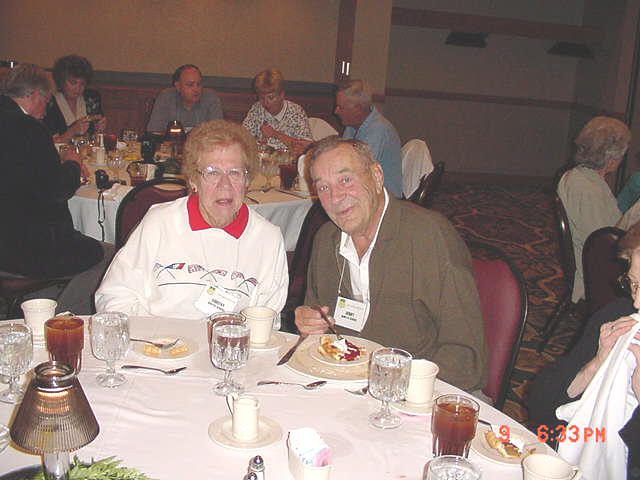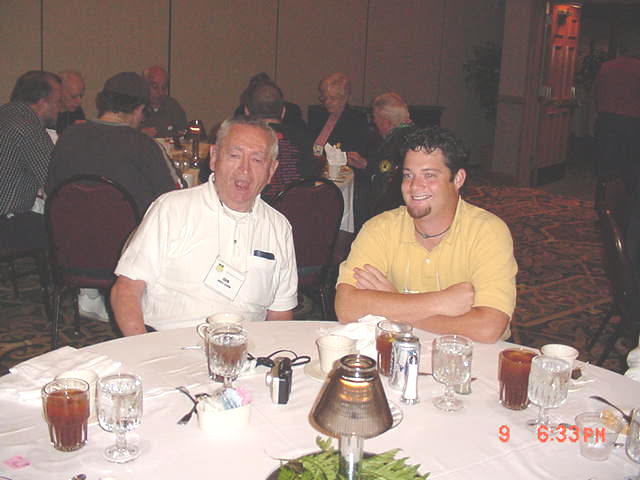 Dottie and Hank Schieble (Thursday Buffet) John Sisson (Vice President Elect) and
Grandson at Thursdays Buffet
More Pictures can be added if you will send them to me. This is all I have.
Sorry if I missed you or your picture did not turn out. Web Master(DFC)
The next reunion for the Second Bombardment
Association in 2005 will be held in
St. Louis, Missouri- Hope to see you there!!!!!
Details later.