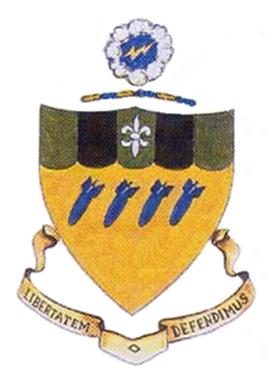 Bulletin Board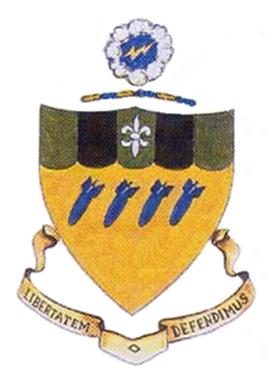 Questions about the website? Announcements! Information for the membership!
Send an email to President, Karen Nelson karenwnelson@gmail.com
or Webmaster, Sid Underwood sidunderwood@prodigy.net.
Send a letter or email and we can post it to this webpage.
Contact information is on the Officers webpage.
---
Posted 9/14/16
Subject: Requesting Information - Clarence M. "Cotton" Hunt, Jr - Tail Gunner 429th Bomb Squadron
My brother was Clarence M. "Cotton" Hunt, Jr. He served as a tail gunner in the 429th Squadron of the 2nd Bomb Group at Amendola, Italy and flew on missions from June 13, 1944 until October 12, 1944. I would like to hear from fellow crew members or anyone with information about my brother.
Tommy Hunt
huntt1115@mindspring.com
---
Posted 5/13/16
Subject: Requesting Information - Cpl. Donald Bruce Torpy - Right Waist Gunner 49th Bomb Squadron
---
Posted 5/13/16
Subject: Requesting Information - Lt. Talmage W. Trevathan - Pilot 96th Bomb Squadron
My uncle was Lt. Talmage W. Trevatha, a B-17 pilot in the 96th Bomb Squadron with the 2nd Bomb Group during WWII. Would it be possible to put a message on your bulletin board asking for information or pictures from any surviving crew members or their relatives. Would appreciate any help you might be able to give me.
Respectfully,
---
Posted 5/12/16
Subject: Skippy the Dog (see "The Story of Skippy" in the "War Stories" webpage)
Was reading your tribute to Capt. Kenneth Spinning and his dog Skippy on the 2nd Bomb Group website today. I wanted to send you this newspaper photo and caption concerning them. The photo shows their B-17 nose art, Skippy and the Captain. I lived in the town mentioned in the caption, "Cut Bank, Montana", when I was a kid. I am assuming the photo was originally posted in the Cut Bank Pioneer Press which is the local paper there. Very sad story about the Captain and Skippy. Have a great week... Nate Wilburn, Great Falls, Montana
---
Posted 2/20/16
Subject: Requesting Information - 2nd Lt. G.W. Ellerman - Co Pilot 20th Bomb Squadron
My father was a 2nd. Lieutenant B-17 Co- Pilot in Amendola with the 2nd Bomb Group during WWII. Would it be possible to put a message on your bulletin board asking for information or pictures from any surviving crew members or their relatives. Would appreciate any help you might be able to give me.
Respectfully,
George W. Ellerman Jr.
513-451-3503
Cincinnati, Ohio
---
Posted 9/9/15
Subject: Roy Rigney- Pilot
---
Posted 9/1/15
Subject: Diary of Lt. T. Michael Sullivan
My Father, Lt. T. Michael Sullivan, was a bombardier in the 429th Sq. from December 1943 thru March 1944 and wrote his day-to-day thoughts in a diary given to him by a relative. I have the original in my possession. I transcribed the diary while comparing its contents with "The Second Was First" by Charles W. Richards. Pretty interesting stuff. For the most part my Father's comments were consistent with the book. I have included with this email that transcription which I completed in 2013 for inclusion in the 2nd Bombardment Association archives.

The last 2nd Bomb Group newsletter mentions an upcoming convention in Shreveport. Since I live here, let me know if there is anything that needs to be done. I'll be happy to help.

In case you are curious about my email signature art below, I own and fly a 1943 Cessna UC-78B that I marked with the Sq/BG markings of the 2nd/429th. I have no knowledge of the 429th ever having an aircraft like this but I took the liberty anyway. I keep it at the Shreveport Downtown Airport, just a mile or so from the convention hotel.Check out the web page if you have time.
Editors Note - scroll down to Bulletin Board posting dated 11/10/08 and you'll see a photo of Terry Sullivan's plane painted with 2nd BG 429th BS markings.

My wife and I are looking forward to meeting all of you this October.
---
Posted 7/13/15
Subject: Unidentified Photo - Possible 429th Crewman
My late father in law (George W Hess) served in the 429th during WWII and was stationed in Montana for a while. While my husband and I were going through some items in my mother in law's house we discovered a professional photograph of a young soldier. There was no identification on the picture, but it was taken at Fullmer's Studio in Havre, Montana. I am enclosing a scan of the picture. If there is anyone you know who recognizes this man, I would be happy to send the picture to them. I'm sure it would mean more to family.

Sincerely,
Rochelle Hess
rhess333@yahoo.com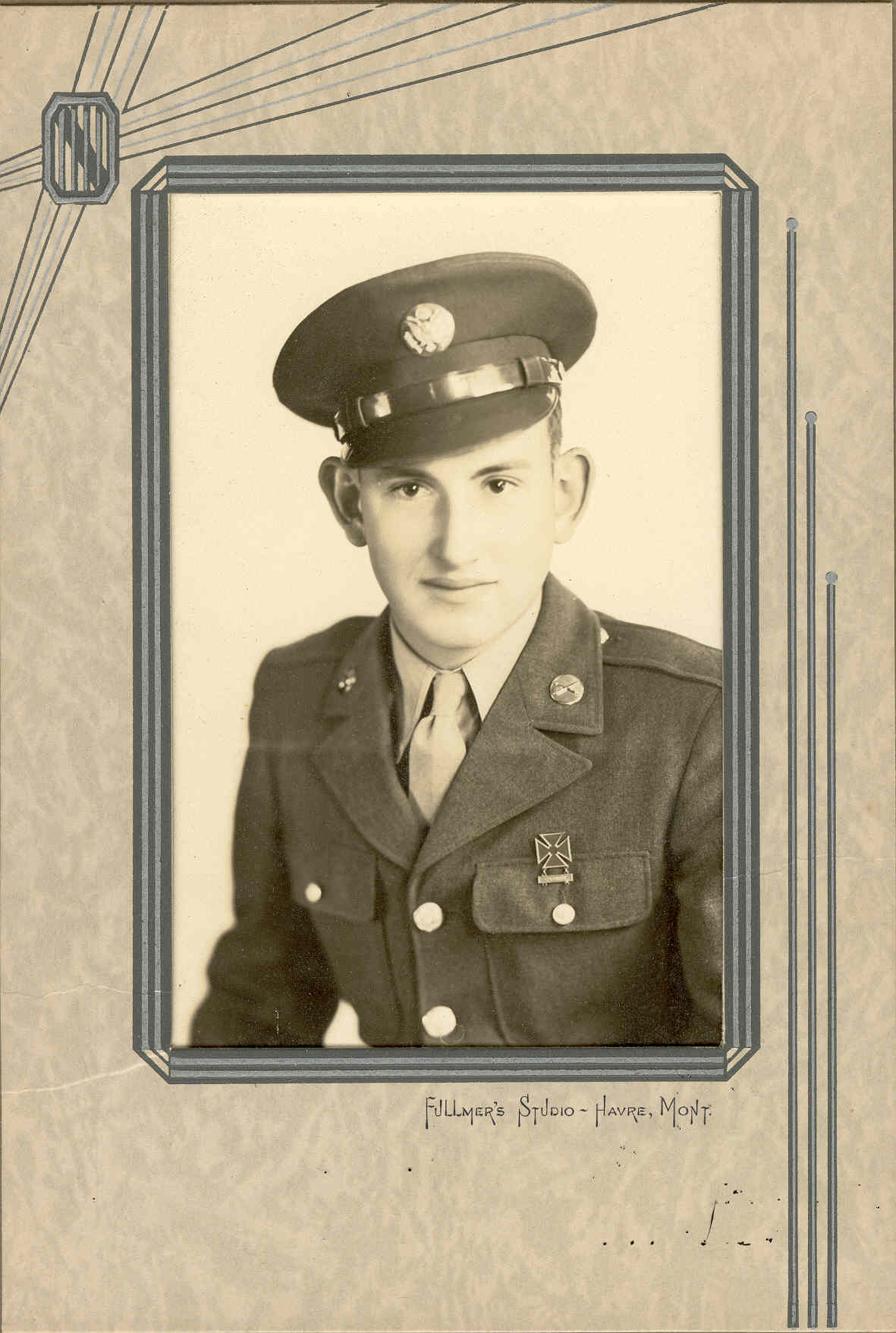 ---
Posted 7/13/15
Subject: The Crew of the B-17F "A-Merry-Can" of the 49th Bomb Squadron
Attached below is a photo of A/C 229611 with a partial crew which includes Robert Haynes (pilot), Charles Johnson (engr/top tur), and Louis Gibson (waist gun/radio op), my uncle. Also, the following is an interesting link to an article, "G.I. of the Week" about Charles Johnson in the campus newspaper of John Tarleton College in Stephenville, TX on February 12, 1946.
http://texashistory.unt.edu/ark:/67531/metapth140962/m1/4/
Charles Smith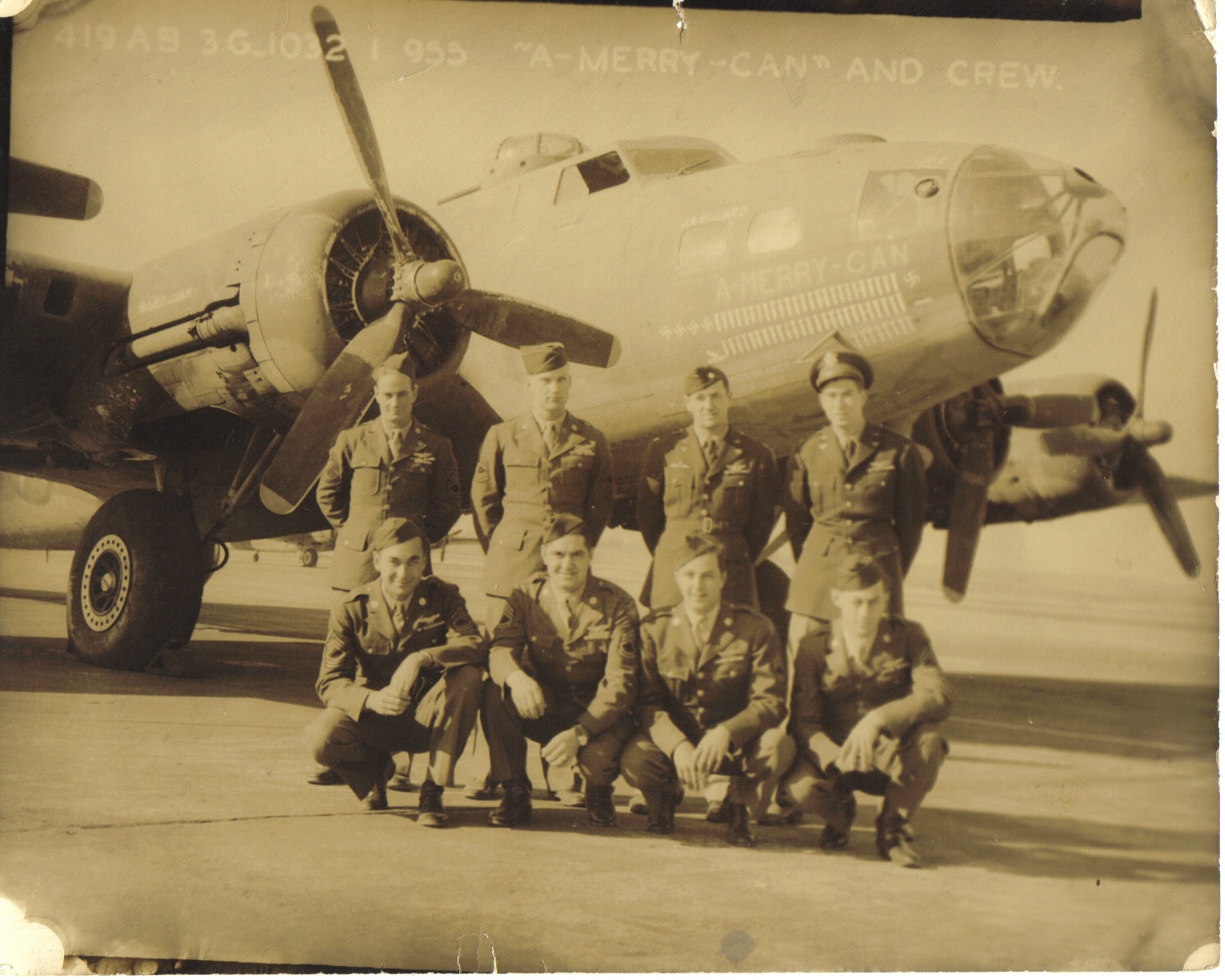 ---
Posted 3/21/14
Subject: Requesting Information - Identify Unknown 2nd BG Officers
Rob Hofmann, the nephew of Capt Jerry Hofmann who was a pilot in the 429th Bomb Squadron, is requesting assistance in identifying the officers in the photos below. Capt Jerry Hofmann is in the middle of unknown # 4. You can click on each photo to enlarge it. Please contact Robert Hofmann at robertdhofmann@yahoo.com
---
Posted 3/20/15
Prisoners of War - Stalag Luft 1
There is a writeup on http://www.merkki.com/brynerjohn.htm by my grandson, Matthew Bryner, about The Peace Memorial Monument, dedicated 22 March 2005 in Grossraschen, Germany. Thirteen German citizens and my 9 crewmates were killed in the crash of my B-17 #44-6440. We designed a beautiful black marble monument for the old graveyard in Grossraschen. Special Note: The city plans a nice ceremony 22 March 2-15, 70 years after the crash, and all members of the 215th USAAF, friends and relatives are invited to attend. Wolfgang Lehmann, a 16 year old Hitler youth was badly burned in the plane crash: POW in Serbia 1945-1955, returned home with others. I was invted to attend, but at 90, recovering from a heart attack, I regretfully will not be there. For more information, ask Matt Bryner, 2nd BG Assoc Treasurer for me.
Sincerely,
John Bryner
---
Posted 7/7/14
Subject: Searching for a Copy of the Book, "A Bombardier's Story", by Paul Dolan (20th Bomb Squadron)
My father, Frank C. Hammond, flew with the 5th Wing, 2nd Bomb Group, 20th Bomb Squadron, 15th Air Force in WWII. He was a tail gunner on both the B-17F and B-17G out of Amendola, Italy. I have recently found a book written by a Paul Dolan, titled "A Bombardier's Story" which I have borrowed from the St.Petersburg, FL library through an inter-library loan. However, I am interested in purchasing this book but it is out of print, as well as the Publisher, Florida Hand Prints (Tampa, FL). I can't seem to track this book down and I was wondering if you might have heard of it and would know if there were any copies that can be purchased? I thank you for any information you might have that will help me with my search. If you need any additional information, please email me?

Sincerely,
Jim Hammond
gabehammond@comcast.net
---
Posted 7/7/14
Subject: Searching for 96th Bomb Squad Members Who Remember Wilbert Wolken, Ordnance Officer and Adjunct
My father, Wilbert Wolken, was not a flying officer; he was the Ordnance officer and Adjutant for the Red Devil (96th) squadron, according to letters that he wrote to my mother. So I was wondering if your database is confined to flying officers and men? Could there perhaps be another source for non-flying personnel? I was also wondering if it would be possible to post my father's pictures on your Website in the off-chance that a former squadron member might remember him? My father is the officer at the top left row in each picture.

John Johnston
jdjohn03@msn.com
---
Posted 3/22/14
Subject: Searching For Photo Taken After Mission # 200
On page 227 of the book "Defenders of Liberty" under the description for "Mission 200", at the end of the first paragraph for this "Landmark Mission", it says the following: "After interrogation, pictures were taken of all who participated in the mission." Does anyone have any information on these photos or have any ideas where something like this could possibly be found? I would think these would be beneficial to many people here on the boards (myself in particular!). I would appreciate any ideas or suggestions anyone might have regarding this. Thank You for your time and efforts. I come to this site often.

Best Regards,
Terry Short
---
Posted 2/3/14
Subject: Requesting Information about Myron R. Brown, a Bombardier with the 2nd Bomb Group and 96th Squadron
I am writing to you in hopes that within the Second Bomb Group there is some info regarding the B-17s My Father flew in. My Father was Myron R. Brown, a Bombardier with the 2nd Bomb Group and 96th Squadron. During his tour he was a Bombardier on the following Aircraft:
AC# 446443 STARFISH
446116
446655
446395
446677 Take IT EASY
446448 HUBBA BUBBA (Big Nose)
446778
4338483
As far as I can tell, all of these aircraft came back to the USA for salvage. Some went to Kingman, some to Walnut Ridge, and one to Alburqurque. Any photos of aircraft and crew members would be so greatly appreciated. I plan to take my second flight on a B-17 this summer.

Raymond R Brown, FCNS1
317-509-2022
rbrown46140@gmail.com
---
Posted 3/6/13
Subject: Requesting Information about James Leon Lowe of the 49th Bomb Squadron of the 497th Bomb Group
My dad was stations in Italy toward the end of the war. He was a tail gunner in a B-17. His Air Base was close to Foggia, Italy. I just got this site from my sister and trying to find out more of my father, he never talks about it. He just passed away 2 Jan 2013. My mother has a lot of paperwork and pictures of him after the war in B36 and B52 but not any from Italy. I was hoping to find a picture of him here or mention of his name (James L. Lowe) on your web site. I'll keep looking. If you want a copy of his flight record about the missions let me know and I'll get them to you.

Thanks for the web site
Kenneth L. Lowe, Ret MSgt USAF
---
Posted 2/22/13
Subject: Seeking Information on William D. Leet of 20th BS for Austrian TV Documentary
We are Austrian Filmmakers, currently preparing a documentary film for TV on a story about the so called "Foo Fighter" phenomenon. We are looking for members of the Second Bomb Group stationed in Amendola, Italy in 1944. More precisely we are looking to contact William D. Leet or his brother Warren R. Leet or anybody who served with them. For any information you can give me I would be most grateful.

With kind regards from Vienna, Austria,
Daniel Wunderer - d.wunderer@blueandgreen.info
Friedrich Moser - f.moser@blueandgreen.info

Writers & Directors
---
Posted 2/6/13
Subject: Requesting Information about Lt Col Robert E Haynes of the 497th Bomb Group
Do you have any records or obit on Lt Col Robert E Haynes of the 497th Bomb Group. Harold Plunkett is trying to find any information on him from after the war. Trying to help finish a history request for another WWII veteran. Any leads appreciated.

Regards,

Todd Weiler
2nd Bomb Group Historian
2761 N. 37th St.
Milwaukee, WI 53210
414-688-6401
308m14@gmail.com

---
Posted 1/25/13
Subject: Requesting Information about Arthur R (Bob) Dixon and/or Sudden Crash of B-17 "Jocko" #42-31682 After Takeoff
I have a long standing interest in the B-17 and the air war in WW II. I recently had a conversation with a colleague, Donald Dixon, who related the following:
1). His uncle, Bob Dixon, was a B-17 waist gunner taking off in Italy for a mission, when his aircraft crashed on takeoff killing everyone on board.
2). Don's grandfather, Arthur Dixon, told him in the late 1950s or early 1960s that Uncle Bob's aircraft was sabotaged; a bomb was rigged in the wheel well of the B-17 so that when the wheels retracted the bomb detonated. The saboteur was discovered and executed.

Intrigued by this conversation, I discovered from your web site that the B-17 in question was probably 42-31682 of the 96 Bomb Squadron, which crashed on takeoff on 6 December 1944. The only question: The name of the waist gunner was listed as Arthur R. Dixon. Don and I both conclude that since his father's name was Arthur, Uncle Bob may have gone by his middle name as d\Don has confirmed that his middle name was Robert.

The second point about the saboteur is intriguing. I recently attended the 8th Air Force Historical Society reunion at San Antonio where the same story surfaced from a number of surviving veterans. Part of me considers this saboteur story to be more an urban legend than anything else. However, I do find it odd that the loss of 42-31682 was never documented either in the form of an Accident Report or a Missing Air Crew Report. It seems the only mention of the incident appears in the history The Second Was First.

Here is my question: Is there anyone in the association who might be able to shed additional light on this event? In particular, is there anyone who may remember Arthur "Bob" Dixon or can explain why the event was not documented in an Accident Report or Missing Air Crew Report. As a footnote, there is evidence that 42-31682 was involved in a "landing incident" on 21 July 1944, the pilot of record was William Watlock and the aircraft was classified to be seriously damaged, if not written off completely. The Second Was First does not mention this incident, though the personnel data base indicates William Watlock flew 42-31682 on 19 July 1944 and Carl Shade flew the aircraft on 20 July 1944. Finally, the database indicates there were no missions flown by 42-31682 until 6 December 1944. From my other research focused on the 8th AF this would not be the first B-17 written off, to be returned to service after major repairs (i.e. 42-97880 Little Miss Mischief of the 91 BG having the rear portion of the B-17 replaced after suffering serious flak damage on 15 October 1944 only to return to combat on 25 November 1944).

Also, is it possible that somewhere in your records, the serial number for Arthur Dixon is available (so that Don can track down part of his family history)? I have copied Don on this email, so if you wish you can contact him directly at djdixon1@cox.net.

Thanking you in advance for your assistance.
Paul M. Andrews
piccadilly864@aol.com
---
Posted 10//8/12
Subject: Requesting Information about Vernon D. Morrow and Crewmen of B-17 "60-50"
I recently came across the 2nd BG website and it is the best. I am hopeing you can help me out. I am writting a book about all the men from my hometown of Hawthorne, NJ who died in WWI - Vietnam. One of the men Vernon D. Morrow flew with the 96th BS and was KIA on July 14, 1943. I have the MARC report for his plane so I know what happened to him. Below is a list of the crew:
MISSING AIR CREW REPORT: A/C #42-29583 - "60-50" - 96TH SQUADRON, 2nd Bomb Group
1st Lt. Vincent J. McIntyre, 0-791314, P. (DED)
2nd Lt. Richard M. Bentley, 0-730343, CP. (POW)
2nd Lt. Wayne M. Greathouse, 0-664884, N. (DED)
2nd Lt. Vernon D. Morrow, 0-730605, B. (DED)
S/Sgt. Otis W. Wharton, 37188611, U/T. (POW)
S/Sgt. James D. Kingsland, 12024924, L/T. (POW)
T/Sgt. Jacob M. Hauber 17040777, R/W. (DED)
Sgt. Casimir C. Manka, 33346371, L/W. (DED)
S/Sgt. George H. Tucker, 37175260, T/G (POW)
T/Sgt. Phillip E. Zimmerman, 17034035, R/O. (POW)
Five of the men were POWs and must have survived the war. Here is where I need your help as Historian:
1. Do you have a crew photo of this crew or a picture of the plane "60-50"?
2. Do you have any idea as to the meaning of the plane's nickname "60-50"?
3. Do you have a picture of the officer club in Italy which was named "60-50"
4. Do you know if the above men listed as POWs are in the BG association and how I may contact them?
I would really like to talk with any surviving menbers of Morrow's crew. It would greatly help me write a good story about the his crew, plane and him. I appreciate any assistance you can give me.
Best Regards,
Paul Chepurko
pchepurko@optonline.net
---
Posted 6/27/12
Subject: Requesting Information about Willie J. Schonage
---
Posted 4/21/12
Subject: Requesting Information about Frank J. Sims
---
Posted 4/18/12
Subject: Requesting Information about S/Sgt. John J. Bradley, Waist Gunner, 20th Bomb Sqdn, KIA 8/18/1944, Mission 254, Ploesti, Ro
---
Posted 3/27/12
Subject: Need B-17 Photos for Book about Operation Frantic
I'm writing a book about Operation Frantic (shuttle bombing missions that utilized Russian bases). Would you have, or anyone you may know of have any original B-17 photos that could be used in the book (originals will be returned). I know this is a long shot but I figured I would take it anyway. Seems my Grandfather did not have a lot of photos of aircraft, mostly men on the ground at Amendola.

Thanks so much, any help would be greatly appreciated.
Best Regards,
Jim Oliveri
---
Posted 3/17/12
Subject: Searching for Dyersburg AAF Trainees and Photos
Hello 2nd BG,
I am the historian for the Dyersburg Army Air Field, TN. I would like to hear from any members who did their training here from 1943 to 1945. I am especially interested in crew photos taken here or any of the base's B-17F's and G's.
Sincerely,
Tim Bivens
tbivensb17@cableone.net
---
Posted 3/17/12
Subject: Searching for a Photo of Col. Maurice A. Berry
---
Posted 2/21/12
Subject: Staff Sgt Les Potter
---
Posted 1/30/12
Subject: Francis A Abbott - Vienna Mission 379 Crash Landing - 15thAF / 2nd BG / 49th BS.- March 16, 1945

I would like to connect with anyone part of the group or had family within the same group. The details of the crash landing (all made it back), are nicely detailed on this website: http://www.2ndbombgroup.org/TheSecondWasFirst.pdf Printed pages 488 - 491 (PDF pages 500-503). There are two Photo's meant to be in that PDF, that aren't appearing. I would love to see the photo of my grandfather, the second one with the
caption: "T/R-L/R - E. Wade, H. Taylor, J. Swift, C. Freeman, Russian Doctor, A. Pierard B/R-L/R - Lisa (Russian Nurse), F. Abbott Courtesy - E. Wade) " Anyone, can reach out to me at david@barbella.com
Thanks very much,
David Barbella
---
Posted 12/19/11
Subject: Operation Frantic

If it is possible, could a request be posted on the bulletin board? I am wrapping up a book about Operation Frantic on the 15th Army Air Force, of which if you recall my Grandfather Tom Ford was a part of. I am looking for any information, insight, stories, that any members may have. I can be reached by any of the following, James Oliveri, 21 Danton St. Melville, NY 11747, email at onenyyankeefan@yahoo.com , or phone 631-423-2014. I would appreciate any assistance. To all members; May you all have a wonderful holiday season and a very happy new year!
Best Regards,
Jim Oliveri
---
Posted 12/12/11
Subject: B-17 Aluminum Overcast
I had the great good fortune to fly passenger on the Aluminum Overcast last June 11th at Centennial Airport near Denver. A young chap carrying a microphone asked me questions about flying a B-17 in 1944 out of Amendola, Italy. About a half hour later he ran me down and wanted to know if I'd like to go up in "AO".. I readily agreed, signed a waiver, and we were up, up and away. First time up in one in 67 years. It was fantastic to be sitting in the Bombardier's seat and seeing the Denver landscape at about a 1,000 feet. It was noisier than I remembered.

Bob Fredericks, a WWII pilot in the 2nd Bomb Group, has a great suggestion. Could we (you) put it up on our web site??!!
Nice closeup pics of a restored B-17. Click on link http://home.comcast.net/~szee1a/Al_overcast/Al_overcast.html

Sincerely,
Loy Dickinson
---
Posted 8/9/11
Subject: Lawrence Carastro DFC Request
I am trying to find information regarding an incident which occurred when we were on a bombing mission # 134 on January 27, 1944. When the pilot, Lt. Frank Glass, did not receive a response from the Radio Operator/Gunner, Vincent J. Pesature, he asked that one of the Waist Gunners check on him, and I volunteered. I removed my parachute, disconnected my oxygen, ran into the radio room, and reconnected my oxygen. He was slumped over his radio table, and his oxygen indicator was not moving. I turned his oxygen to 100% and he came up. I turned it off and he slumped down again. I tried this three times with the same result. I notified Pilot Glass, and he said we should abort the mission. In the meantime, Top turret gunner, George Hawk, came through the bomb bays and gave me an oxygen mask that he found in the cockpit. I took off the defective mask and replaced it with the other mask. Sgt. Pesature was revived, and we did not have to abort the mission – which would have put the plane in extreme danger. The overhead panel had been removed so that we could point the machine gun outside and the air was extremely cold (below 40 degrees) I had to remove my gloves to help Sgt. Pesature, and after a few minutes my hands began to feel stiff, and turned white and wrinkled, as I was in the slipstream under the overhead panel, and frostbite was setting in. This information needs to be corroborated by someone in authority in order for me to be elegible for the DFC medal. If you can give me any help in obtaining information regarding this incident, it would be greatly appreciated.
Sincerely,
Lawrence Carastro
2948 Eastwind Dr.
Fernandine, Beach, FL 32034-8959

Mr. Carastro is particularly interested in finding 2nd Bomb Group Members who were on the 2008 2nd bomb group roster. (Richard S. Abbey, Ernest Henderson, Arther E. Jobin, John J. O'Donnell, Robert M. Tiffany) Remaining survivors on the plane are Richard B. Paul, Ralph Karsh.
---
Posted 6/19/11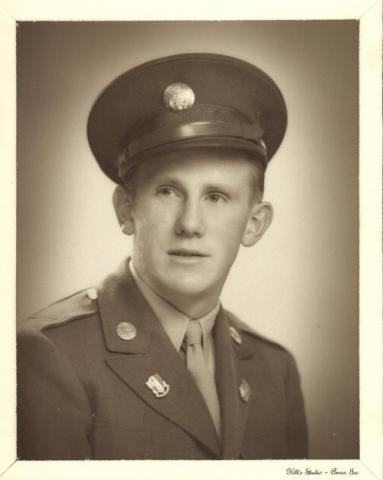 Subject: The Return of Staff Sgt. Marvin J. Steinford, 429th Bomb Squadron, MIA 03-24-45
---
Posted 4/11/11
Subject: Searching for Fellow Crewmen of Clarence Marvin Hunt, Jr of the 429th BS
---
Posted 1/10/11
Subject: Please Help - Searching for Former Members of 2nd BG Repair Units (mechanics) - Shade of Dark Olive Drab Color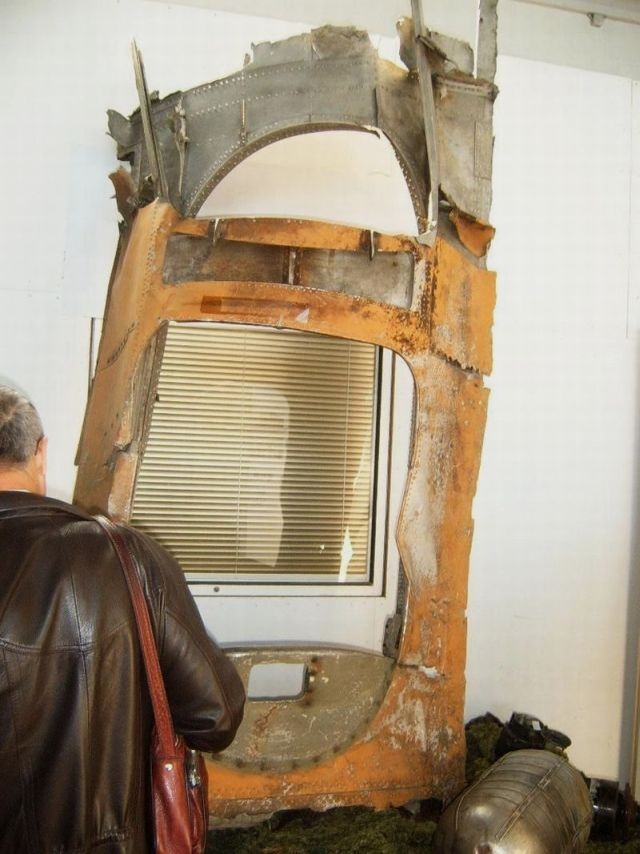 Hello,

Is anyone in touch with a mechanic from a 2nd BG repair unit? There´s a big discussion on B-17G color (Olive Drab and its totally different shades) on the Army Air Forces Forum. http://forum.armyairforces.com/tm.aspx?high=&m=195467&mpage=1#195467 . I would like to speak to someone who could bring some light on this. An example of the 'strange' brown color is attached. This part used to be a part of B-17G, 42-31885, "Lovely Ladies", shot down on Aug 29, 1944. Any ideas about this color?

Thank you!

Roman Susil
Zlin, Czech Republic
roman.susil@gmail.com
---
Posted 9/22/10
Subject: Please Help - Searching for Relatives of Sgt. Joe Marinello, Jr. who was Killed on Mission 263
Hello,
I´m looking for relatives of Sgt. Joe Marinello Jr. Joe was killed during the mission 263 as a ball turret gunner aboard of B-17G, 42-97159 and was buried at the cemetery in Rudice, Czech Republic and later exhumed in September 1946. I´m going to see Joe Owsianik (a left waist gunner from the same machine) from South Plainfield, NJ in October and will spend few days in Brooklyn as well. Joe Marinello was born in Brooklyn and his father´s last known postal address was Mr. Joseph Marinello, 1060, 60th St., Brooklyn. I´d really want to meet some of his relatives and take a picture of his grave. Is there anybody who would be able to give me some info on his relatives?

Thank you in advance!

Roman Susil
Zlin, Czech Republic
roman.susil@gmail.com

---
Posted 8/10/10
Subject: Information about 1st Lieutenant Lawrence S. Grennell
---
Posted 3/6/10
Subject: From Cut Bank, MT - Robert "Bobby" Barlow
---
Posted 1/31/10
Subject: Research Project Updates
Hello Mr. Weiler and Mr. Waters!
Hope you remember me, it's been a while since we were last in contact. Cali Neuberger from Omaha Central researching 2nd Lieutenant Gerald K. Beem for a senior history project. Just wanted to give you gentlemen an update on how my research is going (swimmingly!). I met with Mr. Beem's youngest brother a few weeks ago and wow - what an amazing experience. He shared a lot of really valuable information with me. I also got a call a few days ago from Mr. Beem's cousin, but I haven't had time to call him back yet. I'm sure he will be a goldmine of information, too. A letter came from a gentleman who shared a great memory of college wrestling with Mr. Beem. I also just today got a photo-copy of an article about the crash from the Great Falls Tribune, dated December 31, 1942 (thanks for that tip, Mr. Waters!). Still waiting on that accident report. Now, here's the information that I would like to pass along to you in hopes that you could help me track down some additional information. Mr. Beem was the co-pilot of the plane. The entire crew was hand-selected to escort Lieutenant Orville A. Ralston home to Valentine, Nebraska. A possible cause of the crash was a lack of oxygen in the cabin of the plane causing the crew to lose consciousness. There was also (possibly) a mysterious 11th member of the crew aboard, in addition to the normal 10 plus Lieutenant Ralston. If anyone could share with me stories about training or being a pilot, that would be helpful! Anything and everything will be welcomed. Thanks both of you so much, and I would be more than happy to send a copy of my final project when I am finished!
Very sincerely,
Cali
cali_jo@cox.net
---
Posted 9/25/09
Subject: 2nd Bomb Group Over Blechhammer
My name is Edward Haduch. I live in Kedzierzyn-Kozle, Poland - a small town which now consists of former German places like Heydebreck, Cosel and Blechhammer. I am an amateur researcher of the 15th USAAF strikes against Blechhammer and Odertal. Me and my friends are running a small museum in order to commemorate the airmen of the 15th USAAF who fought and often died for our freedom. We do not have a Website now, but hope we will create one in near future. You can see some photos from our museum here:
http://picasaweb.google.pl/mkcz67/M?feat=directlink&fgl=true&pli=1
http://poland.usembassy.gov/embassy-events/embassy-events-2008/lieutenant-arthur-lindell-memorial-award-5-june-2008.html

We plan to unveil a War Memorial next year, with the names of 135 USAAF Airmen who have fallen in the vicinity of Blechhammer. There were also flyers of 2nd Bomb Group among them: 1st Lt William Nabinger 42-38213; 2nd Lt Owen E. Rice Jr. 42-38213; F/O Ralph T. Mooney 42-38213; 1st Lt Howard Friedman 42-38213; S/Sgt James O. Jarrell 42-38213; S/Sgt Frank R. Bossi 42-38213; S/Sgt Herb E. Helstrom 42-38213; S/Sgt Charles L. Woods 42-38213; S/Sgt Dwight C. Wheeler 42-38213; S/Sgt Wesley Frinsco 42-38213; S/Sgt Howard J. Kidney 44-6176; 1st Lt Arnold T. Kwiatkowski 44-6379; 1st Lt Edward C. Buettner 44-6379; 2nd Lt Fredrick H. Brilliant 44-6379; 2nd Lt David J. Eiseman 44-6379; T/Sgt Richard H. Ferro 44-6379; S/Sgt James F. Johnston 44-6379; S/Sgt Elton L. Schumann 44-6379; T/Sgt Robert C. Wolfe 44-6379.
I would appreciate to receive scans of any documents, photos etc, as well as memoirs of surviving veterans of 44-6176 and 44-6379 aircraft. I would also appreciate if you could send me contact information to veterans or their families. We would like to know more about those brave men in order to honor them in the museum and share their stories with people in our community.
Thank you in advance,
Best regards,
Edward Haduch
---
Posted 9/24/09
Subject: Historian and Writer Wants WW2 Stories
I'm a retired fighter pilot and also a writer and historian. I specialize in aviation history and have had several books produced by such publishers as Random House, Zenith, Casemate, Pacifica and the Naval Institute Press. I'm currently under contract to write a book focused on World War II aerial operations against Germany. I am looking for contact information for American World War II vets who served as airmen (any type of aircraft or crew position) in the fight over Europe. Obviously, I'd like to talk with vets of the 2nd. Further, I'd very much welcome the chance to review unpublished memoirs or stories from those veterans who may have passed on. I cannot pay for material or interviews but will gladly provide participants or contributors a free copy of the finished book upon publication. I'd appreciate any help you might be able to provide.
Best regards,
Jay A. Stout
---
Posted 8/30/09
Subject: Charles T. Dickson, 96th Sqd, 2nd Bomb Group, !5th AAF, Jan-Jun 1944
---
Posted 8/3/09
Subject: "Patches" Crew - Thompson, Hughes, Cashore
---
Posted 7/2/09
Subject: Mighty By Sacrifice
---
Posted 6/11/09
Subject: Information Requested on POWs from the 429th BS at Pressburg
I am interested in obtaining information about the following US crewmen of the 2nd Bomb Group, 429th Bomb Squadron who were imprisoned in the Mast POW Center, Pressburg, Hungary.
070245 B-17G 44-6682 429.BS/2.BG 1/Lt Dale E. GOLD
210245 B-17G 44-6689 429.BS/2.BG 1/Lt Eugene F. BULL
210245 B-17G 44-6198 429.BS/2.BG 1/Lt Robert P. TROWBRIDGE
240345 B-17G 44-8162 429.BS/2.BG 2/Lt Richard RAPELYEA
Can anyone please provide me with some additional info (contacts, addresses, memories, narrative reports....) about these crewmen? It would be very helpful with my research. Many thanks for your time!
Sincerely,
Milan Bencek milanbencek@yahoo.com
Horna 265
Liptovska Kokava
SK-032 44
Slovak Republic, Europe
---
Posted 6/4/09
Subject: 20th Bomb Squadron Crewmen
I am looking for the following 20th Bomber Crew Members (or relatives) of my Great Uncle Edmund Nalewak who was killed when their plane was shot down on 13 APR 1944:
LT Elmer Gray
LT James Andrews
LT Robert Kaczmarek
SSGT Milno DeHart
SGT Jack Imhoff (pulled my Uncle body from the belly ball turret after he was killed in the first passing attack)

These five men I know were POWs. The other crew members did not make it out. The plane crashed in Papa, Hungary, but my Uncle is buried in an American Cemetery in France? Thank you.

Regards,
MAJ "H." Shindle (RET) EN USAR
Virginia Beach, Virginia
(757) 412-0877
---
Posted 5/26/09
Subject: Information Requested about Crash Landing of B-17 #42-29582, 429th Squadron, near Braymer Missouri on 2/19/43
I am researching the crash landing of B-17 #42-29582, 429th Squadron, 2nd Bomb Group, on the morning of 19 February 1943 near Braymer, Missouri. I am hoping to get in contact with crew members. The crew: 2nd Lt. Douglass L McCarter, 2nd Lt. Raymond T. Bernier; 2nd Lt. Raymond C. L'Amoreaux; T/Sgt. Robert L. Picking; T/Sgt Sidney A Cohan; S/Sgt. Clarence P. Morrison; S/Sgt. S/Sgt. Wilbur F. Peterson; S/Sgt. Hinton M. Waters; S/Sgt. Everett E. Eye. All help will be greatly appreciated.

William Mackie
wmackie628@aol.com
7306 Shadywood Dr.
Austin, TX 78745
512-447-6763

---
Posted 4/30/09
Subject: Silver Bracelet Feature Story In Newspaper

Friends,
Attached is a copy of the Silver Bracelet story that ran in today's newspapers, including Burlington, Waterford, Westine, Hales Corners, Franklin and Muskego. If the pictures don't print or the file won't open, be sure to use a newer version of Acrobat Reader available for free from
www.adobe.com
. One technical correction I called the reporter on. The 60th anniversary was in 2004, but my visit was in 2007.
Enjoy,
Todd Weiler, Historian
2nd Bomb Group
tjweil@pobox.com

---
Posted 4/20/09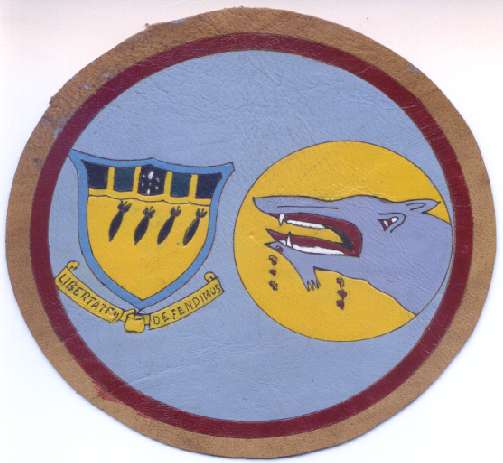 Subject: Searching for Fellow Crew of Frank Ebner Gartz
I'm trying to find other crew members who may have flown with my Uncle Frank Ebner Gartz from January, 1945 – May. He then stayed on in Europe to fly around VIPs who were rebuilding Europe and Middle East. He died of polio, of all things, October 12, 1945. Frank died in Italy on October 12, 1945 from polio in 300th General Hospital in Naples, Italy. He had stayed on in Europe after VE Day to fly VIPs around who were rebuilding Europe after the war. He was a First Lieutenant and navigator on B-17 bombers. He was stationed in Caserta, Italy.
Here are the addresses I have for him for 1945 (based on the return addresses on his letters' envelopes:
- Feb 16, April 27, 1945 (Post date on envelope), Lt. Frank E. Gartz 0-2071572, 49th Bomb Sq. 2nd Bomb Grp (H), APO 520, c/o PM, New York
- May 29, 1945, 353 Bomb Sq; 301 Bomb Grp, APO same, (Note June 7th when decides to stay in Europe) (letter 137)
- June 16, 1945 (same: June, July & Aug) HQ AAF/MTO Flight Section, APO 650 c/o PM? New York
In particular, his commanding officer, Major David T. Perkins (writing from the Marcianise Air Base on 18 October 1945) , notes to Frank's mother (my grandmother) the names of two Servicemen who were "Frank's most intimate friends who are still in the Squadron" and encourages her to write them for more information about Frank (in a letter expressing his sorrow over Frank's death). Those men are:
Lt. Jack M. Collingsworth, 0-714880 and F/O Stuart H. Heyser, T-5857, 4th T.C. Sq., 62nd T.C. Gp., APO 528 c/o Postmaster, NY, NY.
I am the next of kin as all my father and grandparents are all dead. I also have letters and addresses during all of his training from January 1943 – December, 1945. If I wanted to find some of the men he trained with, is that something I could do through you as well or are there other sites. Before I muddy the waters with information you can't use, let me know the best way to find buddies from training (e.g., I have the entire list of young men who graduated from the following: 1943, 97th C.T.D. (College Training Detachment, Central State Teachers College) Sept. 18, 27, May 27, 1944, 9/5 FEG 36727093, MTS #2 C.T.D., Stevens Point, WI. He was also stationed in Hondo, TX, Santa Ana, CA, Biloxi, MS., Miami FL. I have those addresses, if there's a way to find the guys who were there with him.
Thank you for whatever help you can provide.
Sincerely,
Linda Gartz
---
Posted 4/14/09
Subject: The Named B-17s of the 5th Bomb Wing (2nd, 97th, 99th, 301st, 463rd, and 483rd Bomb Groups)
----------------------
From: Upchurch, Marty [
mailto:Marty_Upchurch@efiglobal.com
]
Sent: Tuesday, April 14, 2009 8:25 PM
To: Todd Weiler
Subject: RE: Photos of 2nd, 99th BG Planes
Attached is a spreadsheet of named planes from the 5th Wing. I have sent an e-mail to Jon Forman, whose father had published the B-17 Nose Art Name Directory. His father passed away several years ago and Jon now has his father's photo collection. I am hoping he will send me scans of the planes that were attached to the 99th, and if he is agreeable, I will see about getting copies of the other 5th Wing photos in his collection. If any of you happen to have or run across any photos of 99th BG planes, or other 5th Wing planes, I would love to have copies of whatever you are willing to share. Also, if any of you would like copies of any of the photos I have listed, just let me know.
Thanks,
Marty Upchurch
---
Posted 1/3/09
Subject: Information Requested from the Daughter of Corporal Lynn B. McCary of 49th Bomb Sqdn
My dad gave me his Air Force info and I started doing some research and came across your website. My dad was Corporal Lynn B. McCary, 49th Squadron, 2nd Bomb Group, 15th Air Corps. His lives in Corsicana, Texas. I am his youngest daughter and would love to hear from anyone about his missions or any information I can get. My name is Gale McCary Evers and I live in Tyler, Texas. My email is jgevers@sbcglobal.net or gale.evers@tylerisd.org

Thanks for your help,
Gale Evers
---
Posted 1/3/09
Subject: Information Needed - Search for Family of 2nd Lt William A Slaughter from the Daughter of Capt William Disbrow of 20th Bomb Sqdn
My Dad, William Disbrow, now deceased, was a Captain of the 20th Bomb Squadron, 2nd Bomb Group WWII. He has kept in his desk a black & white photo of a stone pile / low wall with a piece of wood with white hand lettering (I suspect it was my Dad's lettering) with the inscription:
Effects of
2nd Lt. William A. Slaughter 0-68032 (then another number or letter that is not legible)
20th Bomb Sqdn, 2nd Bomb Group
APO 520 c/o Postmaster
New York. N.Y.
M.I.A. 20 December 1943
I would like to give this photo to Mr Slaughter's family and am hoping you might suggest the best way to locate them.
Regards,
Debbie Disbrow
Vice President, Corporate Marketing and Communications, Roundbox
25 Hanover Road
Bldg. A, Suite 101
Florham Park, NJ 07932
T: +1 973.210.8620
F: +1 973.966.0737
www.roundbox.com
---
Posted 11/10/08
Subject: Cessna UC-78 Restored in 429th Bomb Squadron Split-Arrow Markings of the 2nd Bomb Group
Hi Sid....I thought you might enjoy this picture of the Cessna UC-78 that I am restoring. I painted it in the squadron markings of the 429th in which my father, Terrence M. Sullivan served in WWII. Check out my web site of my restoration project www.cessnat50.org. I plan to fly it sometime early 2009.

---
Posted 10/31/08
Subject: 2nd Bomb Group; 429th Sq.; March 22, 1945; Mission # 383; MACR # 13245, B-17 #44-6697
---
Posted 8/22/08
Subject: Timeless Voices Kit - B-17 Vets
Hi Sid,
Can we uplaod this to 2nd Bomb Group site? Great resource for those
wanting to preserve the legacy of the vets.
Thanks,
Todd
----------
Subject: RE: B-17 Vets Washington DC
Date: Fri, 22 Aug 2008 10:58:14 -0500
From: "Zachary Baughman" <zbaughman@eaa.org>
To: "Todd Weiler" 308M14@gmail.com
Hi Todd,
I copied you in on the email I sent to two of my volunteers on the east coast - Dave Lande lives very close to DC, and Mel Smith is only a few hours away in Charleston, SC. Hopefully one or the other will be available. Attached is the project kit paperwork in Word format. The only thing your or any other interview would need to be concerned with is the Interviewer and Interviewee Release Forms, the Biographical Data Forms, and the list of sample questions. The rest is all supplemental really.
A couple of key points to remember - a quiet, well-lighted room is a must, focus the camera in on the person's head, shoulders, and upper chest, and remember to let them do the talking after asking a question - do not interrupt until they have completed their thought. If you think of something to ask as they are talking, wait until they pause or finish, then say something like, "Can we go back to..." The most common mistake for a new interviewer is to interrupt with another question.
If you have any questions after reading it over, please don't hesitate to ask. I had really hoped to be able to attend the reunion myself, but I am unfortunately swamped with post-convention work that needs to get done asap, and the reunion wasn't even in my line of sight if you know what I mean. IF an arrangement can be worked out to hold the 2009 reunion in Oshkosh or nearby, we could really be able to record a number of interviews in a very short time. Hopefully it will work out. See you at EAA AirVenture Oshkosh-July 27-August 2, 2009
All the best,
Zachary Baughman, EAA #656015
Timeless Voices Program Coordinator &
AirVenture Museum Collections Assistant
EAA-The Spirit of Aviation
Phone: 920.426.6839
Fax: 920.426.6765
-----Original Message-----
From: Todd Weiler [mailto:308M14@gmail.com]
Sent: Friday, August 22, 2008 10:30 AM
To: Zachary Baughman
Cc: Nelson, Karen; Dickinson, Loy; Sid Underwood Web 2nd Bomb; Waters, Lew
Subject: B-17 Vets Washington DC
Zach,
The 2nd Bomb Group Reunion will be meeting at the Hilton Alexandria Mark Center, 5000 Seminary Road, Alexandria, Virginia 22311 Tel: 1-703-845-1010, Fax: 1-703-845-7662. I will be in Washington on August 27th at about 11:00 AM and at the hotel by Noon if all goes well. If you have a "Timeless Voices" EAA volunteer contact me, I will try and make arrangements to have an area and time set aside to videotape the vets. I look forward to receiving your kit for the project. Sorry I missed you at the 2008 Airventure. Perhaps 2009!
Thanks,
Todd Weiler
2nd Bomb Group Assistant Historian
---
Posted 8/8/08
Subject: Crew of the Ready Teddy
Mrs. Hellums,
I sure have enjoyed reading and seeing the pictures of the 2nd Bomb Group web site. My father (now deceased) was S/Sgt Carl W. Kepper, a tail gunner assigned to the 96th Bomb Squadron out of Foggia, Italy. Dad and his crew departed the United States on the B-17G Flying Fortress "Ready Teddy" but after much research I have found that he and his crew flew most of their missions on AC # 46448. The name of their plane was "Hubba Bubba / Big Nose". I would appreciate you posting the attached pictures to your 2nd Bomb Group website in memory of my father and his crew.
Sincerely,
Karl V. Kepper
SFC, US Army (Ret)
tail-gunner@comcast.net
| | |
| --- | --- |
| | |
| (left to right) CPL. Mark Swirsky (radio operator), CPL. Carl W. Kepper (tail gunner), SGT. Martin Goziker (Engineer top turret) , CPL. Ellis E. Replogle (ball turret), CPL. Calvin M. Poorman (waist gunner). Standing (left to right) 2nd LT. Benjamin "Dude" W. Doddridge (pilot/commander), 2nd LT. Carl R. Buehner (Co-pilot), 2nd LT. James Ellerstien (bombardier), 2nd LT. Herman Dooha (Navigator) | S/Sgt. Carl W. Kepper (tail gunner) |
---
Posted 7/14/08
Subject: 2nd Bomb Group History, 96th Squadron
---
Posted 7/8/08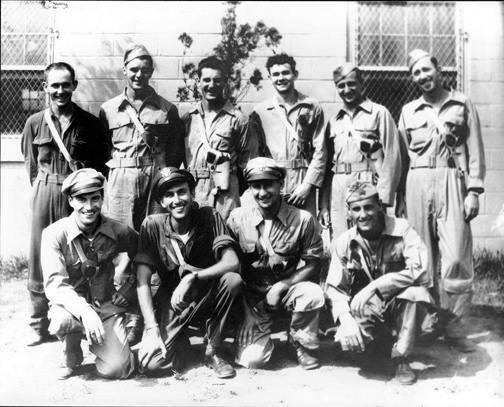 Subject: James Weiler Crew Photo
Sid,
Did I ever send you the James A. Weiler Crew photo to put on the web site? I never thought to ask. We now believe it is Savanah, GA not Drew Field, Tampa, FLA.
We are looking for the names of the others in the picture. Thought perhaps somebody may know their names if on the web site.
Thanks,
Todd Weiler [308M14@gmail.com]
---
Posted 7/2/08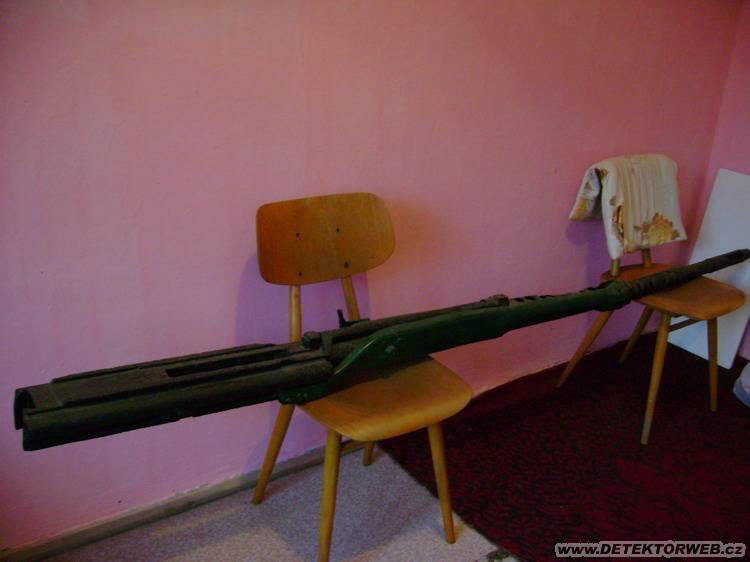 Subject: Prentice´s B-17 Had A 20 mm Cannon Onboard, Probably In Tail !!!!
Hello my friends,

at least one of 8 B-17´s shot down on August 29, 1944 in our area had a 20 mm cannon onboard! B-17G, serial # 42-31885,MACR8099, crash site Vyskovec.

A friend of mine found 20 mm shells at the crash site last year, then we noted a strange gun on the historical picture (attached) and this week I've found out this cannon still exist (pic attached, taken from Fragmenty z B-17G – Detektor web.cz detektory kovù!!!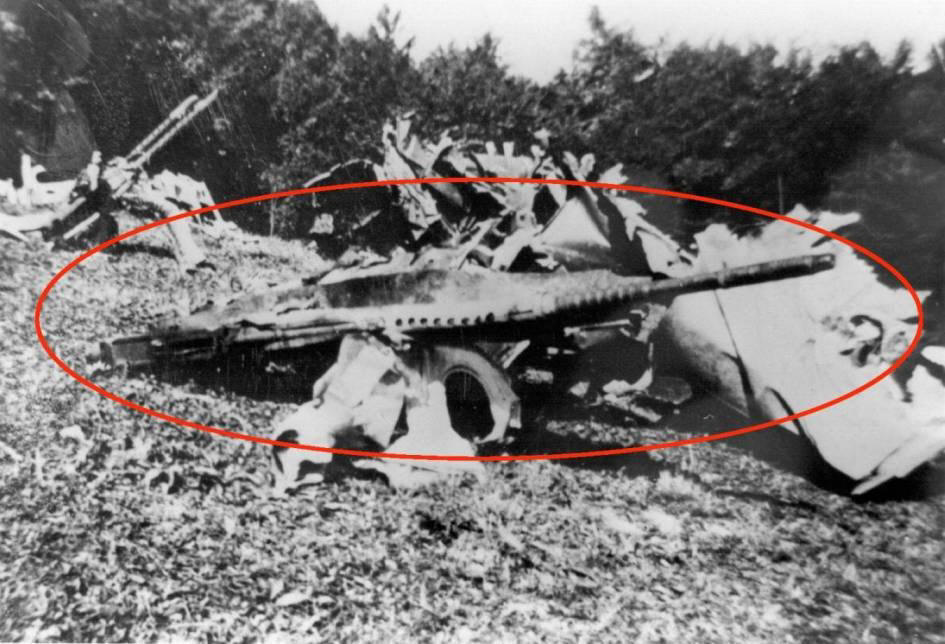 More at 20 mm cannon aboard a B-17G???

Very rare mounting and very rare pics!

Roman
---
Posted 5/9/08
Subject: Richard E. Dunkleberger, 20th Sqdn, who was KIA on 5th mission over Brux, Cz on July 21, 1944
Noted your reunion notice in my latest issue of MOAA. Though I did not belong to the 2nd Bomb Group, my cousin Richard E. Dunkleberger was a member of the 2nd Bomb Group, 20th Bomb Squadron operating out of Amendola, Italy during WWII. He was co-pilot of a B-17, piloted by McKenzie. Their B-17 was jumped by a swarm of German fighters and the aircraft went down. Richard was KIA on his 5th mission over Brux, Czechoslovakia on July 21, 1944.
---
Posted 3/11/08
Subject: My Grandfather, Thomas R. Ford
Dear Sir,
I am a recent member of the Association and I wrote a short story about my Grandfather whom I am very proud of. I recently honored him by flying in a B-17. Please accept this letter and photo for consideration on the web site.
Thank You,
Jim Oliveri
Staff Sergeant Thomas R. Ford
was a B-17 tail gunner in the 15th Air Force, 96th Bomb Squadron, 2nd Bomb Group. He flew missions from March 15, 1944 to July 20, 1944. These missions included Cassino, It, Ploesti, RO, Munich, GE, Memmingen, GE, Debrecen, HU, and many more. Some of his aircraft were named "Catherine the Great", "Dark Eyes", "Old Bird", and "Silver Streak". Thomas Ford was my Grandfather.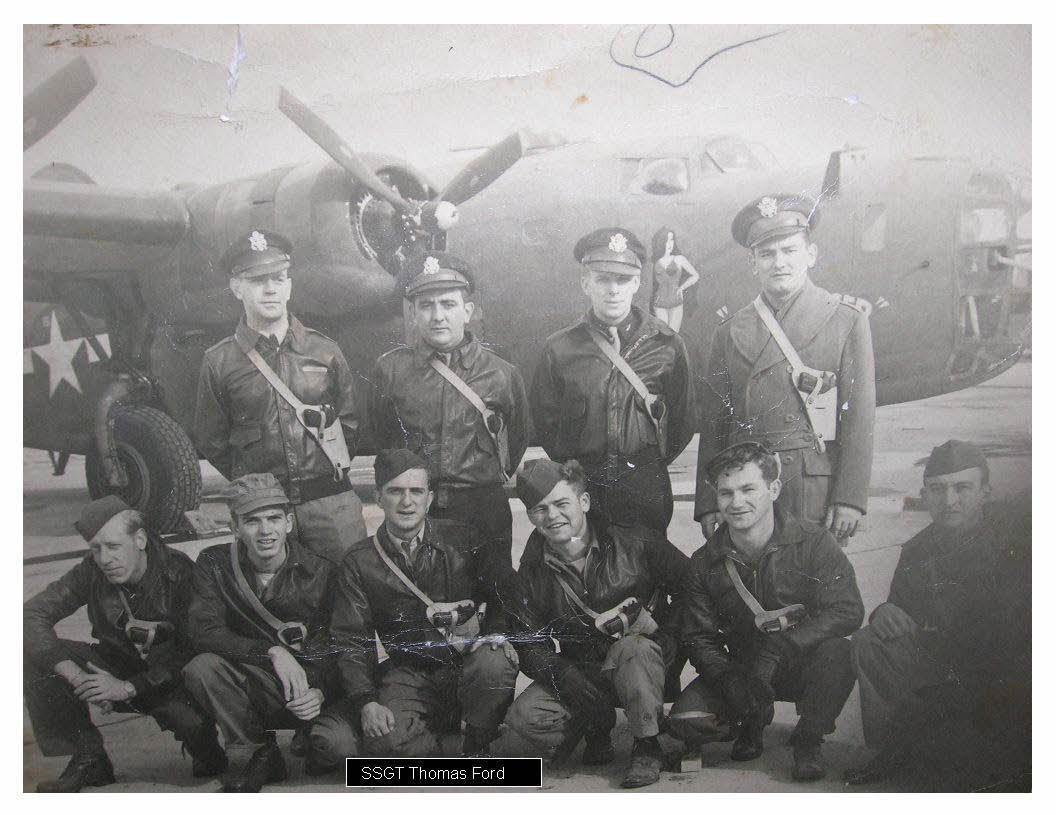 I was born 23 years after the end of WWII, but I was fortunate enough to hear first hand accounts from Pop on a regular basis. I can not remember a single time when I was in his presence that he did not speak of his beloved B-17 or those .50 caliber machine guns. It amazes me when I think of this considering I had heard stories about him having a rough time after his service. I know he spent some time in a Veterans Hospital and there are stories of him waking up crying some nights and other nights flicking the light switch on and off in his sleep as if to be dropping the bombs. Somehow he turned a corner and was able to speak proudly about WWII and his service, and speak he did.
Pop made the local paper during the War in an article that read "25 from Long Island made historic mission from Italy to Russia". This was the first shuttle bombing raid over Nazi Europe utilizing an air base in Russia. He saved the clipping all those years and we found it in a drawer after he was gone.
Pop passed away on October 26, 1996. Just 2 months prior to his death he was awarded the Commemorative Medal, "The 50th Anniversary of the Great Patriotic War" (World War II). This was issued by Russian President Boris Yeltsin. I can remember that time and how excited he was. He was invited to Russia to accept the award in person. Unfortunately Pop was unable to attend as he did not have a passport and could not have one issued in time.
On May 27, 2006 I took a flight in Pops honor on the B-17 Yankee Lady at the American Airpower Museum in Farmingdale, NY. It was a gift from my wife for my first Fathers Day. In my pockets I carried a photo of Pop with one of his crews, his air medal, a bomb safety pin, and one of his dog tags. It was an incredible experience and left me wishing he was there with me. I guess in a way part of him was there. You see, my wife and I both have brown eyes but our daughter Grace has blue eyes. They say for her to have blue eyes it had to be on both sides of the family. Pop was the only one on my side with blue eyes. Grace was only 3 months old at the time of my flight but she was at the AAM watching it through those bright blue eyes. Maybe, just maybe, Pop was watching through them too.
James Oliveri
Long Island, NY
---
Posted 3/5/08
Subject: Joe Owsianik Meets Former Enemy Fighter Pilot Willi Reschke
Todd and Loy,

hello U2, I got a question for you- do you think would it be possible to put few pics from the meeting of Joe and Willi Reschke on the websites of 2ndBG, perhaps on Bulletin Board? I think it was a rare event so it could be nice to let the people know that the former enemies are friends again after 63 years...
You can find some pics here http://www.ww2aircraft.net/forum/aviation/willi-reschke-joe-owsianik-meeting-after-63-years-9298.html

(you must create an account to access)


If you want, I could send you also Willi Reschke´s bio as well... (see below)

Thanks,
Roman Susil

Zlin, Czech Republic

Reschke (left) & Owsianik (right)

Willi Reschke & Joe Owsianik -meeting after 63 years

Hello flyboys,

I temporary have my American friends on visit here- Joseph P. Owsianik, a former left waist gunner from a B-17G, ser. # 42-97159, "Tail End Charlie" and his grand son Nic Mevoli. This B-17G was shot down on August 29th, 1944 and Joe managed to bail out. Whole 20th Sqdn from 2nd BG was erased from the sky. We just came back from Germany, where Joe´s big dream came true- on August 28th, 2007, after 63 years, he met Willi Reschke, a former German fighter, that flew his Bf109G-6 on that day and shot down one of those B-17G´s.

What a wonderful moment for them and me!
Willi Reschke's Bio
Willi Reschke was born on 3 February 1922 at Mühlow in the Crossen region of Mark Brandenburg. After pilot training, Unteroffizier Reschke was transfered to I./JG 302 based at Götzendorf near Wien on 20 June 1944 . On 2 July he achieved his first success when he shot down two B-24s over Budapest. He rammed the next B-24 he downed on 7 July at 11:55 near Malacky in Slovakia when his guns malfunctioned. He successfully baled out of his stricken aircraft. On 24 August, he claimed a further B-24 Liberator near Jindrichuv Hradec in Czechoslovakia at 12:40, but shortly after, during an attack on a second, his aircraft was hit by return fire. Reschke wanted to force-land with a dead engine, but P-51 Mustangs began pouring fire into his Bf 109 G-6 "White 10" and he had to use his parachute. On 29 August, he shot down a B-17 south of Zlin at 10:50. During the attack his Bf 109 G-6 "White 6" was fired on by other Bf 109 and Reschke had to force-land near Uhersky Brod. At the end of August 1944 he had 14 victories to his credit. After re-equipping with the Focke-Wulf 190 A-8, I./JG 302 was redesignated III./JG 301 on 30 September. In October the unit transfered to Stendal airport near Berlin. On 1 January 1945, Reschke downed a B-17 for his 22nd victory but was again hit by return fire and baled out of his Fw 190 A-8 "White 6". On 13 March, he was awarded the Deutsches Kreuz in Gold. In March he transferred to Stab JG 301. On 14 April, he flew a Ta 152 and claimed a RAF Tempest. On 20 April, he received the Ritterkreuz.
Willi Reschke flew about 48 combat missions in achieving 27 confirmed victories, 20 of them four-engined bombers. He was shot down 8 times, baling out 4 times, and was wounded once.
| | | | | | |
| --- | --- | --- | --- | --- | --- |
| PRIVATENo | Date | Time | A/c Type | Unit | Location / Comments |
| 1. | 2.7.1944 | 10:25 | B-24 | 1./JG 302 | Budapest |
| 2. | 2.7.1944 | 10:29 | B-24 | 1./JG 302 | Budapest |
| 3. | 7.7.1944 | 11:55 | B-24 | 1./JG 302 | Bratislava / Rammed |
| 4. | 13.7.1944 | 10:45 | B-17 | 1./JG 302 | Neusiedler See |
| 5. | 14.7.1944 | 9:55 | B-24 | 1./JG 302 | Budapest |
| 6. | 18.7.1944 | 10:53 | B-24 | 1./JG 302 | München |
| 7. | 18.7.1944 | 11:10 | P-51 | 1./JG 302 | München |
| 8. | 19.7.1944 | 9:57 | B-17 | 1./JG 302 | Starnberg |
| 9. | 16.8.1944 | 10:00 | B-17 | 1./JG 302 | Kassel |
| 10. | 20.8.1944 | 9:45 | B-17 | 1./JG 302 | Budapest |
| 11. | 20.8.1944 | 9:52 | B-17 HSS | 1./JG 302 | Budapest |
| 12. | 22.8.1944 | 12:50 | B-17 e.V. | 1./JG 302 | Balaton |
| 13. | 24.8.1944 | 12:40 | B-24 | 1./JG 302 | Neuhaus |
| 14. | 29.8.1944 | 10:50 | B-17 | 1./JG 302 | Ung. Brod |
| 15. | 21.11.1944 | 12:05 | B-17 | 9./JG 301 | Magdeburg |
| 16. | 26.11.1944 | 12:45 | B-24 | 9./JG 301 | Hildesheim |
| 17. | 17.12.1944 | 11:20 | B-24 | 9./JG 301 | Kassel |
| 18. | 17.12.1944 | 11:25 | P-51 | 9./JG 301 | Kassel |
| 19. | 24.12.1944 | 14:55 | B-17 | 9./JG 301 | Hannover |
| 20. | 24.12.1944 | 15:03 | B-17 | 9./JG 301 | Hannover |
| 21. | 31.12.1944 | 11:35 | B-24 | 9./JG 301 | Hamburg |
| 22. | 1.1.1945 | 12:00 | B-17 | 9./JG 301 | Gardelegen |
| 23. | 14.1.1945 | 12:45 | P-51 | 9./JG 301 | Mecklenburg |
| 24. | 14.1.1945 | 12:55 | P-47 | 9./JG 301 | Kyritz |
| 25. | 14.4.1945 | 19:20 | Tempest | Stab JG 301 | Ludwiglust / Tempest V (SN141) SA-U of 486 Sqn, RAF flown by W/O O Mitchell, killed |
| 26. | 24.4.1945 | 8:45 | Yak-9 | Stab JG 301 | Berlin |
| 27. | 24.4.1945 | 8:48 | Yak-9 | Stab JG 301 | Berlin |
Victories : 27
Awards : Knight`s Cross
Units : JG 302, JG 301
---
Posted 2/19/08
Subject: More History (Harold Plunkett)

Loy,

Last Feb. 1st, 2007, the B-17 "Nine-0-Nine" was here in Ft. Myers, FL. and I was the tour guide for the plane. While I was talking to a High School Class, a young man came by names Joseph Gunther, he is a publisher of Children's Books, from Osweego, N.Y. He was taking pictures and taking notes of what I was saying. When he got back home he put together a web-sight and recently sent me a copy of it.

---
Posted 2/3/08
Subject: Death Over Sofia
My father, Sgt John Stokan (Jake 2) was in the 96th Bomb Squadron. He wrote this after Mission #170 (March 30, 1944 to Sofia, Bulgaria, Industrial Center) where his best friend Raymond Bringolf (Jake 1) was killed. I don't know if there is a place for it on your website but I think it reflects what these guys went through. There is a page missing that I did read as a little boy and it was a very painful description of this mission and the lost lives. This was written in 1944 and it shows what these airmen felt at that time. Their plane was "Catherine the Great" (a.k.a. #231458 Ole Kate).
Frank Stokan
| | |
| --- | --- |
| | The Crew of "Catherine the Great" |
| | Ray Bringolf (Jake 1), John Stokan (Jake 2) |
---
Posted 1/7/08
Subject: Joseph L Myers, 429th SQ, who was KIA on the 15th mission over Comiso, SI on May 26, 1943
---
Posted 9/19/07
Subject: Lt. Francis Flynn
---
Posted 4/14/07
Dear Mr. Martin,
I am the very proud daughter of Cletus and Ed Hardy who now reside in South Carolina. They are members of the greatest generation our country has ever known- the World War II Generation. We have just recently found your web site and organization!
My Dad is a new member to your 2nd Bomb Group Association and we are eager to help him enjoy participating in your activities. We were hoping that you may be able to connect him with the other members of his entire crew.
Every mission was heroic for all of the men in the WWII B-17's, with enemy radar, flak, enemy planes with their fire power, and the uncertainty of engine failure, or mechanical failure. Each time they took off, they were putting their lives on the line for their country and families. It was just up to Almighty God as to whether He would take them up on their offer. The stories of heroism would not be complete without including those men who continued to offer, mission after mission, without ever having to endure the horrors of a downed plane, or being taken prisoner by the enemy. For those heroes, our country can never repay the debt we owe. But for the heroes who are not as well sung; our country needs to sing for them too.
Here is how my Dad describes his experience and the pictures (not shown, couldn't be downloaded) I am sending to you.
"I was a member of the 15th Air Force, 2nd bomb Group, 96th Squadron stationed in Foggia, Italy. I was born 6-19-24 and was in the class of 44D pilot school. My training was in California. In my final month of training, I contracted Mononucleosis, (you probably know Mono was called "the kissing disease") and ended up in the hospital for 2 months before earning my wings. Because of this delay I did not go to England and the 8th Air Force with my original class but went on later to Italy in the 15th Air Force. This hospital stay probably saved my life. I arrived in Italy in 8-44 and the war ended 6-45. I flew about 11 missions.
I have enclosed 2 photographs. One shows our officers and crew members plus our plane in 1944. It was taken just before we left for the war. The other photo shows the 4 officers while at a reunion in New York City in 1984, posing the same way as they did in 1944. Note even the hand position is the same as the original picture which can be seen in the foreground. From Left to Right are Ronald Thompson, pilot (deceased); Maurice Edward Hardy, pilot; Wayne LaPoe, navigator (deceased); Ernesto G. Balloni, bombardier (address and condition unknown). "
Here are some stories.
During the first year of aviation training the cadet flies first, in a Piper Cub. Then the cadet flies a Steerman training plane. After learning enough to fly solo, the cadet completes a variety of maneuvers until he can do masterfully. It's up to the cadet to accomplish everything in safety. Upon one such training flight, a cocky young cadet maneuvered splendidly with growing confidence and grace. No maneuver was beyond his young manhood. During his practice after takeoff, he did a shondell with the wing up to the left and then a shondell to the right, ascending, descending and landing. Mission accomplished! Only then did he realize he had forgotten to fasten his seatbelt! If he had tried to do a loop the young fighter pilot would have fallen right out of the plane! Never again did cadet Ed Hardy forget to put on his seatbelt!
Ed Hardy was determined to learn all that was necessary for any mission he was called upon to perform. During another practice exercise with instructors looking on, he maneuvered his Steerman with precision. As the plane leveled parallel to the ground and he was coming in for a landing, the tires touched the ground for the first bump of landing. The entire plane flipped upside down tail over end with a body and soul jarring impact. The cadet was saved from death because he was in a Steerman and the upper wing prevented a crushing catastrophe. Upon investigation it was shown that the brakes locked. He was blessed by God a second time to walk away from a mechanical failure.
During Air Force training our young men will sometimes cut up and need a little discipline. Our cadet got into a little trouble with his superior officer. His answer when he was called on the carpet was "no excuse sir." He had landed too far up on the runway, and the officer wanted him to learn a valuable lesson. He gave him a difficult punishment that was going to take him a long time to accomplish. He would be outside in the sun for a long time doing this one. With nothing more than a stick to measure with, he was ordered to find the length and width of the airfield runway. The officer expected to watch with satisfaction this whippersnapper try to manage that one. The officer checked periodically on his progress. The cadet was walking smartly around the airfield with the stick up on his shoulder! The officer was puzzled as to what the young man was doing. In what seemed like a relatively short amount of time, the cadet seemed to be finished. The officer called the young man back into his office and was surprised to see what seemed to be the correct answer. Angrily, he demanded to know how this young man had come up with the answer from just walking around. Cadet Hardy responded that in the US air force they are taught to correct the civilian stride. They learned to walk evenly with the right step and left step. Each stride becomes uniform. " I measured the stick you gave me and then I measured my stride according to the stick. Then I counted the number of strides for the length and width of the airfield and multiplied- Sir!" The officer had to admit that by measuring his stride the young man had made for himself a clever way to measure. The cadet earned his superior's respect on that day.
After earning his wings, Maurice Edward Hardy was an officer in the US 15th Air Force. He was assigned to a B-17 flying fortress and crew. They were sent to Foggia, Italy. According to his orders he flew the missions his country asked of him. He was one of the country's youngest pilots. He was, however, able to get a full pilot's rating while in Italy. As such, he was co-pilot on one particular mission. It took hours and hours to reach their targets. On the journey there and back, the B-17s would fly in tight formation. Gigantic flying fortresses huddled together required attention to details. The men who flew them for uncounted hours were in their late teens and early twenties. In one such hour, pilot Ed Hardy's responsibilities were not for flying. It was his turn to be responsible for the instruments and gauges that help control the B-17. The other pilot was flying at the time. Officer Hardy's attention was engaged elsewhere when the pilot reached casually over to him and tapped him on the shoulder. He did not immediately respond. Tap tap the finger repeated. He thought, "Yes, yes, in a minute." Tap, tap, tap, a little harder. The noise inside the plane was deafening. There's no way to hear someone speaking. The pilot pointed out the window in a gesture meaning "check where we are in formation, look out the window." The young American Air Force officer glanced out at formation. Adrenaline took over as the co-pilot grabbed the controls. The lumbering B-17 swerved in a manner much too sudden for it's design. Officer Hardy may have just saved the lives of everyone on both planes. He had seen that their plane had drifted out of formation and was located right on top of the lead plane! He had reacted to an imminent collision with the leading B-17! When they were safely on the ground the pilot and co-pilot came to an agreement. Ed Hardy strongly emphasized, "If that ever happens again, don't tap me, punch me!"
Here are these stories- short- but full of the realism of just how young these men were as our country leaned so heavily on them. My Dad would love to see it on your web site or the newsletter. He would love to connect with other veterans. With these hopes in mind, I submit his stories.
Sincerely,
Marion Grace
j_mgrace@cox.net
---
Posted 12/7/06
Dear 2nd Bomb Group Members,
Don't know if you've been copied on the status of the ball-turret gunner found August 29, 2006.
Here is an e-mail from Roman Susil a friend of "Jersey Joe" Owsianik.
Todd Weiler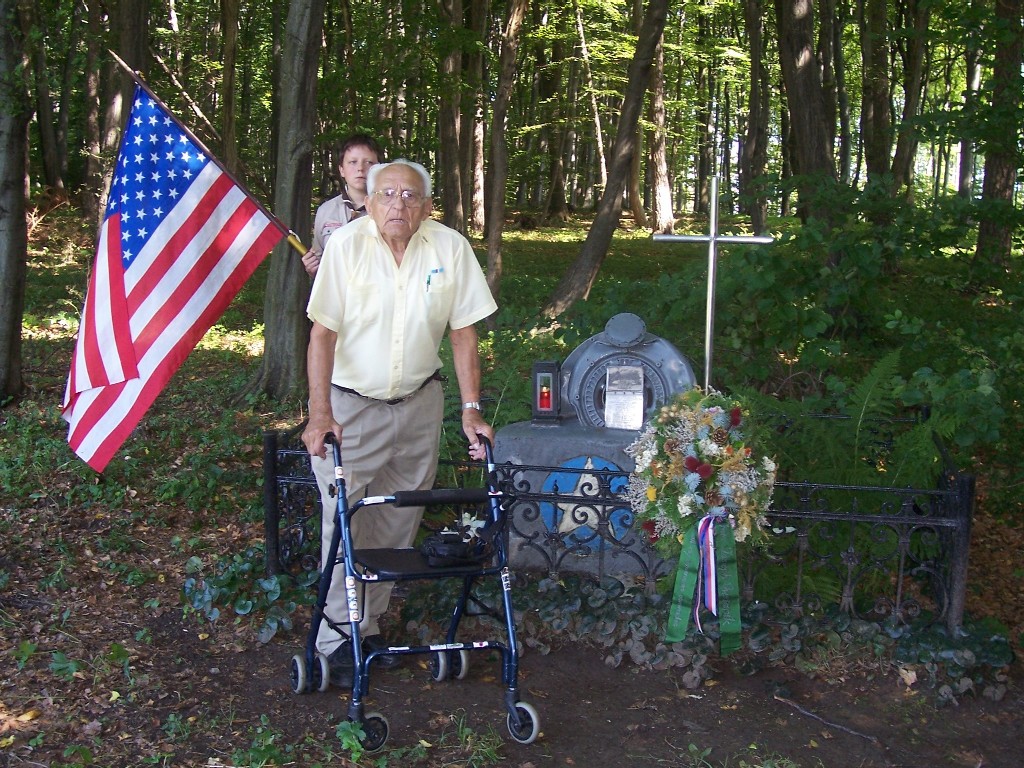 >Date: Fri, 6 Oct 2006 08:58:18 +0200
>From: "Roman Susil"
>
>Dear Todd,
>
>regarding the ball turret gunner- it´s a little bit complicated and sad
>story but I can try to explain it with my poor English... After
>B-17 # 096 fell down near Sanov some citizens went to this crash place.
>One of the citizens found some fingers and part of someone´s head...
>But very soon there came the German soldiers to this spot to collect
>the rests of this plane and the bodies. So this man was hiding behind
>the trees in the meantime and was waiting what´s gonna happen. After
>Germans left this place he went back to this place and found out that
>the rest that were found by him are still there and Germans haven´t
>seem them. So he went down to Sanov and asked the mayor what to do with
>it. The mayor didn´t know so this man went back, put these rests into
>the small wooden box and buried them on the crash place. This is the
>story from 29/8/1944. After the war people from Sanov put a small
>wooden cross on this place. In 1970 they made there a small concrete
>monument with the part of the wing & turbocharger from this machine and
>put a new stainless cross on this place.
>Attached you can see the pictures of this place that were taken last
>year during Jersey Joe´s visit.
>As I told you Jersey Joe has sent a metal detector to Michael Zitnik,
>that is the owner of the museum in Sanov, and Michael went there with
>it. He found there some metal pieces in depth of 23-24 inches. So he
>discovered the ground and found there also the rests of oxygen mask,
>headphones,glasses, shoe sole from the electrical heated boot, little
>pieces of temporal bones and part of hip.
>Believe or not, this happened on 29/8/2006!!! So Michael called for the
>newspaperman on Friday and on Saturday you could read an article in
>Zlin newspapers.
>So in fact it means so after the crash the ball turret and the ball
>turret gunner body were split into a lot of pieces but Michael has
>found the exact place were the ball turret hit the ground...
>
>Bye bye
>
>Roman
---
Posted 12/7/06
This a copy of an e-mail that was sent to me by Perry Giles today. Perry has written this article. I think some could be interested in it as John Adair was the member of the #048 B-17G that went down on Aug. 29th 1944 near Krhov, Czech Republic, during the mission 263.

Roman
---
The Story of Skippy
The following picture of Skippy and his story of service was sent to us by Brian and Beverly Sullivan
(Recent note from Burt Thorman which helps complete the story.)
Dave: After my first visit to the website, I realized that the story of Skippy was incomplete. When the Group came into the Field, Skippy would race down the hardstand for Spinning's plane. The day that Spinning did not return, the dog was disconsolate and finally returned to the tent area. The next day or so, the Groups had him charging down to the hardstand, only to be disappointed. After that, hearing the planes returning, he would start to get up and then stop and sag in sorrow. It was a very sad thing to watch, until someone going home took him back to Peg Spinning - Burt Thorman
Ken W. Spinning and Skippy
---
Special Note !
January 27, 2005
Dick Drain from the 99th Bomb Group in Italy has assembled a listing of all crews in all the Groups of the 15th Air Force. He has offered to let the 2nd Bomb Group use a copy of this list covering the crews of the 2nd. This will give us the ability to access this database for information about any flyer, crewman, mission, aircraft, and target flown by the 2nd BG from April 1943 to May 1945. We will keep you advised of progress.
---
February 13, 2005
The following message just received:
This letter received by Loy Dickinson on February 12, 2005 from John Bryner,Jr. recipient.
Any action will be taken by President Dickinson.
Peace Memorial in Grossrachen, Germany March 22nd (Thanks Earl Martin) DFC
Maj. Mark S. Carroll, USAFR
M/Sgt Bryan S. Ripple USAFR
NCOIC, 910TH AIRLIFT WING PUBLIC AFFAIRS
John C. Sullivan - USAFE/HO at Ramstein AB, Germany; Historian
Dear Sirs:
This is to request US Army Air Force representation at the dedication of the Peace
Memorial Monument in Grossraschen, Germany scheduled for noon on 22 March
2005, just 60 years after a B-17 bomber of 2nd BG; 20th BS, flown by Williams
crew, crashed, killing 9 of 10 crewmen and 13 Germans. The six-foot-tall pyramidal
granite monument lists names of victims and the story on it's 3 sides.
The Peace Memorial Monument Committee, consisting of 4 Americans and 4
Germans, after receiving approval and encouragement from the Burgermeister, and
Town Council of Grossraschen are finalizing the Program.
The City of Grossraschen will host the Program and entertain such invited guests
who may represent WW-II veterans of the German Luftwaffe and USAAF, active
US Army Air Force, American Embassy, American EX-POWs, local survivors of
the bomber crash, kin of the aircrew victims, and the only survivor of the crash,
myself, John H. Bryner, Jr.
Names of the Committee members, the Burgermeister, local German Historians
and other appropriate persons may be submitted to you upon request.
Respectfully yours,
John H. Bryner, Jr. Ph.D.
---
"12th to 15th Air Force" (taken from News Letter January 05 (Thanks Earl Martin)
When the 2nd Bomb Group arrived in North Africa, April 1943, it was
assigned to NASAF (North African Strategic Air Force). It, along with the
newly assigned 99th bomb group, was part of a reshuffling of heavy groups
among England, North Africa and the Middle East.
Later the B-17 and B-24 groups were assigned to the 12 Air Force.
They remained in the 12th until the 15th Air Force was organized in
Dec. 1943 and moved to Italy. The four B-17 groups and the two B-24
groups, making up the 5th Wing, were moved to the 15th. The B-24 groups
were then moved to other wings and the 5th Wing was composed of the four
groups of B-17s. Two more B-17 groups were later added to the 5th Wing.
---
May 2, 2004:
Today we received a message from James Peters who asked us to post
the following message on the Bulletin Board: Web Master.
"I am interested in talking with anyone who knew my father.
His name was Lester M. Peters and he was with the group from
startup in the US till the end of the war. He started as maintenance
officer for the 96th Squadron. Later promoted to Maintenance
Officer for the 2nd Bomb Group."
"I can be reached at: James Peters 817 Lakewood Blvd
Madison Wisconsin 53704. Telephone 608 246-8575(Home)
920-478-2191 (Work) Email: james peters@trekbikes.com"
Thanks in advance for your help, James Peters.
---
July 1, 2004
Information about Capt. Wm. J. Cooper
We received a letter from Nancy Hodges whose Father was Capt. Wm. J Cooper. We could not find his name listed in "Defenders of Liberty" or "The Second was First". Nancy Hodges is determined to find a connection between her father and the Second Bomb Group and has sent several pictures taken from her fathers Alban, some of which we could identify as being from the 2nd Bomb Group. Others we could not. We need your help.

Picture upper left hand corner was identified as 1st Lt. J. Loren Peck Navigator on mission 393 to Munich,
Germany on October 28, 1944. They lost 3 engines but nursed the plane to a crash landing at Falconaro, Italy. The
report did not list any causalities. The second picture was not identified but there was a handwritten marking showing
the name "Schmidt" The third and fourth picture were identified as 2nd Lt. Robert W. Steel CP on crew of 1st Lt. John
W. Pierik's crew of 429th Squadron which as shot down over Ruhland, Germany on March 22, 1945. Steel and all the officers in the forward section of the plane were KIA. The rest of the crew in the rear section bailed out and were
taken POW. All were later returned to the US. Picture in the lower left was not identified. The picture in the lower right
was not identified but the hand written note to the left of it says "Marx".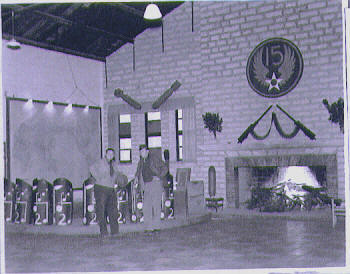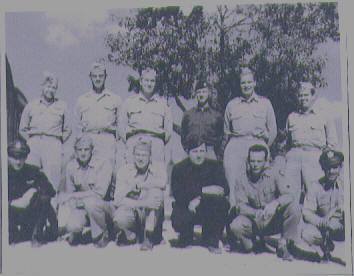 In the pictures sent by Nancy Cooper Hodges we found these two pictures. The Picture on
the left is the Officers Club which was built by the Group Officers. The Club was completed in
April 1944. The officers to the right must have had something to do with the Clubs Construction.
Nancy says that her father is standing on the Left side of the picture.
If anyone remembers any of these men, Please let up know and we will forward your message to Nancy (Cooper) Hodges.
---
8/5/04
Email from Zebulon Vance Jackson, Jr.
Email received August 5, 2004 From Vance. Jackson
It is with profound sorrow I inform you of the death of my father
Zebulon Vance Jackson of complications from pneumonia on February
10, 2004. Dad was proud to be a member of the 429th with whom he
flew 65 missions as a bombardier. He was the last surviving member
of his crew. He was retired from the USAF as a Lt. Col, and the
USPS as an Asst. Postmaster.
I hope his many friends from the 2nd Bomb Group will remember
his easy-going nature and ready smile with the same fondness as
those who were closest to him.
Zebulon Vance Jackson, Jr.
---