Major Henry A. Heim
Flight Officer Heim was an enlisted aerial gunner/observer in B/18's in Hawaii
on December 7, 1941. He flew 16 antisubmarine and shipping-patrol before
.rotating to the U. S. with an aviation cadet appointment. He completed his
pilot training in class 42-K and was among the first to receive Flight Officer
appointment. Heim had only a high school education which didn't qualify for
a commission. He joined the Group as a copilot in August, 1943. Because of
rotation and combat losses Heim became one of the most experienced survivors
in the 20th Squadron. He was promoted to Flight Commander February 1, 1944
and was assigned to mission leads positions in the Squadron and later as deputy
Group Lead and Group lead. On April 1, 1944 he was commissioned as a
2nd Lieutenant. In late April, upon completion of 50 missions combat tour.
Heim was placed on detached service to the U.S. for thirty days rest and
rehabilitation due to " prolonged combat fatigue." He returned to the Group at
the end of that period, and resumed flying combat missions. Heim was
quickly promoted to 1st Lieutenant and within months was promoted to Captain.
While flying deputy Group lead on September 22, 1944 on a mission to
to Munich, Germany, Captain Heim's aircraft received severe flak damage
but did return safely. It was on that mission that he and his crew saw their
German jet fighter. It was on that day that he told 20th Squadron First Sergeant
Clyde "Tiny" Atkerson to "put in his papers. "Tiny", who had been begging
him to quite flying combat, was only too glad to comply. Heim flew his last, and
seventieth mission against Komarom, Hungary marshalling yards on October
14, 1944. He was awarded the DFC by the Fifteenth Air Force Headquarters
dated September 29th 1944. Later he became a B-29 air crew commander
and flew fifty one missions in the Korean War.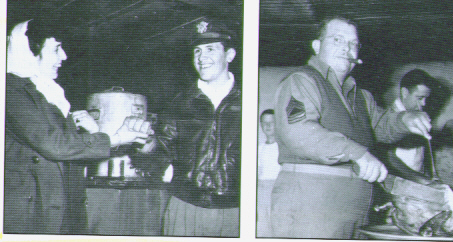 Major Henry A Heim after completing his first 50 Missions with
the 20th Squadron 2nd Bomb Group. Later he flew 20 more missions
with the 20th and then 50 missions over Korea in B29's.
(Picture courtesy "Defenders of Liberty" 2nd Bomb Group)
(Picture on the right is First Sergeant "Tiny" Atkerson.)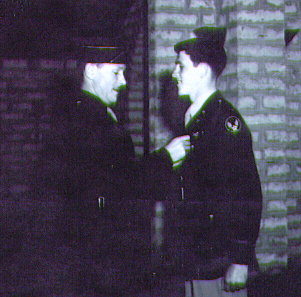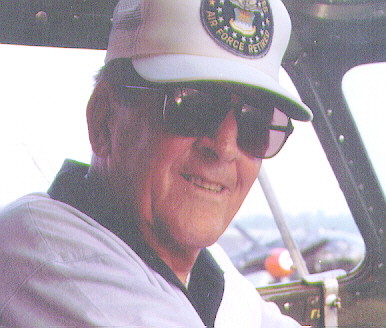 Heim in being awarded the DFC by Brig. General Charles W. Lawrence Sept 29, 1944
(Right- Heim in pilot seat B17 in 1997)